Watch Shaka Zulu
The television series Shaka Zulu is based on the life and experiences of the King of the Zulu known as King Shaka. The challenges he had in ruling his people especially with the several confrontations with Bristish traders. Shaka was a very important and powerful leader during his reign over the Zulu people. The series also portrayed the actual traditions of the people of the Zulu land.
It all started during the period during the reign of Queen Victoria she decided that the British have some control over the Zulu people.
The series portrays the role of foretelling in the life of Shaka. Even before he was born it had been foreseen how he would be born, how he would be banished from his locality of origin and be exiled, but later on rise to power and contribute enormously in rebuilding the Zulu Kingdom. His struggles, involvements in battles with Europeans and his skillfulness in getting through all that had been prophesied.
His life through tough childhood, rise and causes of his fall from the throne also portrayed.
The series was written by Joshua Sinclair based on inspiration he got from one of his novels and it was directed by William Faure. Leon Rautenbach served as the executive producer of the series while editing was done by Bill Lenny and Ettie Feldman.
The series comprised of ten episodes each airing for about fifty minutes. Production of the series was done by the South African Broadcasting Corporation.
The actors and actresses starring in the series included Henry Cele who featured as the King Shaka, Edward Fox
Fireworks International

1 Season,

10

Episodes - Canceled

November 24, 1986

Anime

10

/
Watch Full Episodes of Shaka Zulu

Season 1, Episode 10
Part 10 (53:34)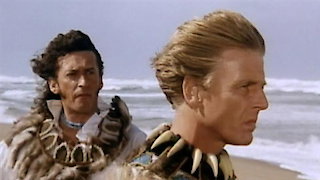 Season 1, Episode 9
Part 9 (53:30)
Season 1, Episode 8
Part 8 (53:31)
Season 1, Episode 7
Part 7 (53:50)
Season 1, Episode 6
Part 6 (54:04)
Season 1, Episode 5
Part 5 (53:52)

Shaka Zulu

Full Episode Guide
Season
1
10 full episodes
Shaka (Henry Cele) helps Farewell (Edward Fox) and a Zulu delegation to get to Cape Town, where Lord Somerset (Trevor Howard) imprisons them; Nandi's death sends Shaka into a frenzy of destruction.

Shaka (Henry Cele) agrees to help build a boat to carry Farewell and a Zulu delegation to Cape Town, where they are imprisoned by Somerset (Trevor Howard); Shaka is furious that Pampata has borne him a son.

Fynn traces the history of Shaka and the Ndwandwe king Zwide (Khukekani Magubane) after Shaka orders the Britons to help fight Zwide, who was responsible for the death of Dingiswayo (Simon Sabela).

Shaka cedes Port Natal to Farewell and his men after Fynn (Robert Powell) helps him recover from an assassination attempt. Meanwhile, Farewell's wife learns that both Shaka and Farewell (Henry Cele, Edward Fox) have been declared dead.
If You Like Shaka Zulu, Then Try...