Watch Shop Talk
This web-series goes into the heart of KNAPS barborshop in Booklyn, NY. Barbershop friends come in every weekend and talk about what is on their minds and in their hearts. This comedic documentary-style web series talks about it all; from manhood and interracial relationships to baby mamma drama.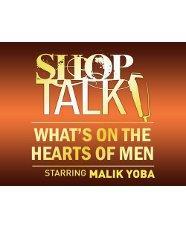 Shop Talk

Full Episode Guide
Episode 9 - Manhood The Never Ending Discussion

Josiah's lesson on being a man comes to an end but the conversation continues..

Phil and Trina struggle while the shop talks commitment.

Episode 7 - The Obamanator Kills Oppression?

Now that there's a Black man in the White House, racial oppression is gone, right? Percy tries to school the young heads.

Episode 6 - In Need of Prayer

Phil, the father-to-be, asks Malik for some advice. Malik shares information from a higher source.

Episode 5 - Cream In My Coffee

Episode 4 - What Women Really Want

Episode 3 - The Love Of Music

Episode 1 - Father and Son
If You Like Shop Talk, Then Try...