Watch Silent Witness
Silent Witness is a BBC thriller that follows a team of forensic experts that focus on a pathologist who attempts to identify murder victims and figure out what caused them to die. Each case is usually divided up into two episodes, which are typically aired at the same time as one another.
Thursdays & Fridays at 9:00 pm on BBC One

13 Seasons,

100

Episodes - Returning Series

8.5/10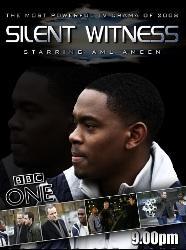 Silent Witness

Full Episode Guide
Two more girls' bodies are examined by Harry and Sarah and they find the same drug in their systems as previously found in the body at Hout Bay. Nikki is unable to work out who the sixth skeleton belongs to. Leo is worried after he receives a call from Kudzai. After meeting with Harry, Leo finds out that she has been sent to the same place as the three dead girls are linked to. Nikki finds out from Captain Brackenhall that Anton's business partner was involved with the Kensington Five murder leaving her with some difficult decisions to make.

After she is hired as a consultant forensic anthropologist by a private investigations firm, Nikki finds herself returning to Cape Town where she grew up. Nikki becomes involved with Anton and they investigate after the remains of five young men who disappeared in the mid-Eighties are discovered. Nikki is due to be joined in Cape Town by Harry and Leo who are to take part in a forensic pathology international conference. Harry ends up working with Sarah after the dead body of a young black woman is discovered. Leo's departure to Cape Town is delayed by an asylum case back home and when he arrives in Capetown finally he finds the person involved in the case he was working on has now been deported to Cape Town. Leo is determined to help her but before he can she vanishes. Anton and Nikki discover their are six skeletons instead of five.

Leo liaises with the Dean and investigating officer DC Saich after a suicide at a local university. They soon find out that Jason was being bullied before his death. After a gun and live ammunition are found in Jason's locker alarms bells ring. The remains of a memory card are found in his stomach which reveals pictures of students, some of whom were his alleged bullies. Harry and Nikki find themselves trapped in one of the campus buildings when shots are fired. After firearms officers manage to make their way into the building suspected shooter Scott Weston, is found with a bullet in his head.
Episode 12 - Finding Rachel (2)

Episode 11 - Finding Rachel (1)

Episode 10 - The Lost Child (2)

Episode 9 - The Lost Child (1)

Episode 8 - Judgement (2)

Episode 7 - Judgement (1)

Episode 4 - Death's Door (2)

Episode 3 - Death's Door (1)
If You Like Silent Witness, Then Try...