Watch Strictly Sex with Dr. Drew
Dr. Drew's Strictly Sex show answers and educates audiences about the ins and outs of sexual health issues, people face in life and in everyday relationships. The show features ordinary and extraordinary people, and makes a point of explaining that health and sex problems affect people from all walks of life.
Experts are invited to show to give their expert advice and professional opinion on various subject matters pertaining to the topic at hand. Questions are answered and for some people their whole life is transformed.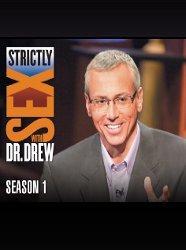 Strictly Sex with Dr. Drew

Full Episode Guide
Episode 10 - Sexual Chemistry

Episode 9 - Sex: Fact or Fiction

Episode 8 - Sex: What Scares You?

Drawing on years of addiction recovery work, Dr. Drew helps viewers work through their fears, guilt and shame. Popular television host Jillian Barberie shares how childhood sexual abuse has affected her relationships and sex life.

Episode 7 - Sex, Drugs & Surgery

Explore the extreme lengths to which some people will go to enhance their anatomy and improve their sex life.; Witness a hymenoplasty, the increasingly popular vaginal rejuvenation surgery, and a penile enlargement procedure.

Episode 5 - How to Ruin Your Sex Life

Episode 2 - Was It Good for You?

Episode 1 - Unmentionables