Watch Su Baek-hyang, The King's Daughter
The Korean drama Su Baek Hyang, the King's Daughter is a television drama based on history from the Baekje dynasty. This television show uses traditional Korean clothing and food thru out the show. This series is about the life of the royal family. Su baek Hyang, played by Seo Hyun Jin, is the eldest daughter in the family. She loses he title of Princess in order to look for her younger sister Seolhee played by Seo Woo.
Along the way to find her sister Su Baek Hyang unknowingly saves the crown prince Myung Nong, played by Jo Hyun Jae. After saving the prince's life she ends up becoming part of a spy organization order to find her sister Seolhee. Seolhee left the town she grew up in when she discovered her step sister is a Baekje princess. She steals her stepsister's destiny. Seolhee would give anything to protect her stolen position.
1 Season,

108

Episodes - Currently Airing

September 30, 2013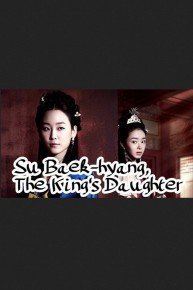 Su Baek-hyang, The King's Daughter

Full Episode Guide
Episode

108

-

Episode 108

Marshal Hae tells Myongnong the late King's last words regarding Solnan. Solhi dreams that an important visitor is coming.

Episode

107

-

Episode 107

Solnan leaves the palace with Solhi after finishing her Dance of Grace. The King dies and Myungnong becomes the new king of Paekche.

Episode

106

-

Episode 106

The King asks Solnan why she never told him that she was the real princess. The King and Solnan goes on a trip to Kalim to talk about Chaehwa.

Episode

105

-

Episode 105

Solnan chooses to leave Paekche with Solhi. Chancellor Yon tells Solnan that Solhi was the one who told Jinmu regarding the Koguryo assassin.

Episode

104

-

Episode 104

Episode

103

-

Episode 103

Episode

102

-

Episode 102

Episode

101

-

Episode 101

Episode

100

-

Episode 100
If You Like Su Baek-hyang, The King's Daughter, Then Try...