Watch Tailgate Takedown
In each episode of "Tailgate Takedown", Cahn travels to a different college stadium during rivarly week, where three teams of local tailgaters face off against one another in a spirited cooking competition. Celebrity judges determine a winner based on taste, presentation and how functional the dishes are in a tailgate environment with the lucky winner receiving a cash prize.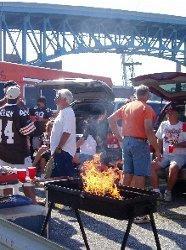 Tailgate Takedown

Full Episode Guide
Episode 2 - Alabama vs. Florida

"The Commissioner of Tailgating" travels the SEC Championship as three tailgate teams will put their cooking skills to the test in order to win over our judges. In the end only one team will have out-cooked all the rest to win bragging rights and $1,000.

Follow Joe Cahn, the King of Taligaters, as he travels game to game, scouting for the best tailgaters around.