Watch TED Talks: Crime & Punishment
These TED speakers fight the world of criminals, drug lords and social deviants daily. Included are topics on organized crime, terrorism, network security, incarceration and more.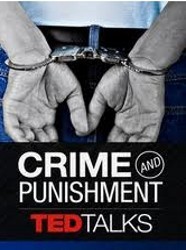 TED Talks: Crime & Punishment

Full Episode Guide
Episode 14 - Philip K. Howard: Four Ways to Fix a ...

The land of the free has become a legal minefield, says Philip K. Howard. A lawyer himself, Howard has four propositions for simplifying U.S. law.

Episode 13 - Shaffi Mather: A New Way to Fight Cor...

Shaffi Mather explains why he left his first career to become a social entrepreneur. His new idea is a company to fight corruption in public service.

Episode 12 - Kiran Bedi: A Police Chief with a Dif...

Before becoming Director General of the Indian Police Service, Kiran Bedi transformed one of the country's toughest prisons into a center of learning.

Episode 11 - Peter Eigen: How to Expose the Corrup...

At TEDxBerlin, Peter Eigen of Transparency International describes his organization's thrilling fight against government corruption in global companies.

Episode 10 - George Ayittey on Cheetahs vs. Hippos

Episode 9 - Mikko Hypponen: Three Types of Online...

Episode 8 - Karen Tse: How to Stop Torture

Episode 7 - Loretta Napoleoni: The Intricate Econ...

Episode 6 - Mikko Hypponen: Fighting Viruses, Def...

Episode 5 - Hasan Elahi: FBI, Here I Am!

Episode 4 - Sarah Kaminsky: My Father the Forger

Episode 3 - Damon Horowitz: Philosophy in Prison

Episode 2 - Misha Glenny Investigates Global Crim...

Episode 1 - Dan Ariely on Our Buggy Moral Code
If You Like TED Talks: Crime & Punishment, Then Try...