Watch Teen Choice Awards
The year 2013 marked the 14th year of the Teen Choice Awards. It appeals to the target market of young adults between the age of 13 and 19. The idea was conceptualized since there were award shows for younger children and ceremonies for adults, but neither reached out to the population in between. It is no secret that teenagers tend to be some of the most dedicated fans, but how could they express their appreciation if no one blinked an eye at them?
In order to make the Teen Choice Awards both fun and unique, award recipients would not win the typical bronze or gold statue. Actresses, actors and musicians who walked away with a title also carried away a custom-made surfboard. Yes, a surfboard valued at $800! Needless to say, back in 1999, it was a surprise for everyone. This was the first award show to go completely outside of the box when it came to honoring a famous face. Of course, celebrities had fun with it though, and talked about when and where they would use their adventurous gift. As a result, the media ate this tantalizing spin on an award show alive. To this day, winners still embrace the stellar surfboard award, especially those who reside in the southern California region.
Each and every year the Teen Choice Awards seem to be growing in popularity. In 2008, the show finally decided to create a branded website: http://teenchoiceawards.com and allow fans to cast their votes virtually. A year later when word got out about online voting, over 83 million user votes were cast through this voting method alone. Producers had previously recognized their show as a success, but this was the icing on the cake--a real-time way to measure the overall return on investment.
The Teen Choice Awards have come a long way since their first show in 1999 and it sure looks like the show is here to stay. With this award show teens feel heard and parents feel safe knowing their children are watching age appropriate content.
16 Seasons,

16

Episodes - Special Event

10/10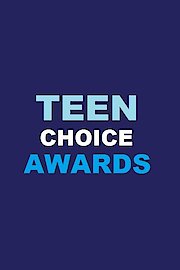 Teen Choice Awards

Full Episode Guide
Episode 1 - The 16th Annual Teen Choice Awards 20...

Tyler Posey and Sarah Hyland ("Modern Family") co-host the 16th annual Teen Choice Awards honoring achievement in entertainment, sports and fashion features live at the Pauley Pavilion in Los Angeles.
Episode 1 - The 15th Annual Teen Choice Awards 20...

Darren Criss ("Glee") and Lucy Hale ("Pretty Little Liars") will co-host the 15th annual Teen Choice Awards honoring achievement in entertainment, sports and fashion features live at the Gibson Amphitheatre in Los Angeles.