Watch The Big Ten's Greatest Games: Basketball
Epic sports battles that are etched in hearts and minds of Big Ten fans across the nation. Unforgettable moments that stir passion and pride. Echoes of both triumphant victories and devastating defeats. College basketball fans can relive the best of those match-ups on the Big Ten Network series, "The Big Ten's Greatest Games."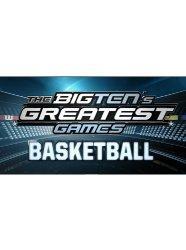 The Big Ten's Greatest Games: Basketball

Full Episode Guide
Episode 25 - 2008 Purdue at Wisconsin

Led by freshman Robbie Hummel's 21 points, the "Baby Boilers" stunned No. 8 Wisconsin, 72-67, putting an end to the Badgers' 16-game home conference winning streak.

Episode 24 - 2007 Wisconsin at Ohio State

In a battle for the Big Ten title, No. 2 Ohio State snuck past No. 1 Wisconsin in an intense defensive struggle, 49-48. Mike Conley's game-winning shot rolled around the rim before falling through.

Episode 23 - 1989 Illinois at Indiana

The two Big Ten powerhouses went back and forth for most of the game before some last second heroics turned this game into one for the ages. Anderson and team make a buzzer shot, giving the Illini a 70-67 victory.

Episode 22 - 2000 Indiana at Minnesota

With John-Blair Bickerstaff injured, sophomore Joe Przybilla stepped in and scored a career-high 33 points, including the game winner with only four seconds left, leading Minnesota to a 77-75 victory.

Episode 21 - 2006 Iowa at Northwestern

Episode 20 - Purdue at Michigan

Episode 19 - Purdue at Indiana

Episode 18 - Minnesota at Illinois

Episode 17 - Iowa at Michigan

Episode 16 - Minnesota at Wisconsin

Episode 15 - 2001 Michigan State Vs. Penn State

Episode 14 - 1983 Minnesota at Ohio State

Episode 13 - 1990 Minnesota at Wisconsin

Episode 12 - 1991 Ohio State at Michigan State

Episode 11 - 1987 Indiana at Illinois

Episode 8 - 2009 Purdue at Wisconsin

Episode 7 - 2009 Northwestern at Michigan State

Episode 6 - 2009 Minnesota at Wisconsin
If You Like The Big Ten's Greatest Games: Basketball, Then Try...