Watch The Dead Zone
The dead zone was a television show based on a novel written by Stephen King. The show starred Anthony Michael Hall as Johnny Smith who wakes up from a coma after several years to find that his life has changed in many ways. He suffered brain damage from the car accident that caused him to go into a coma and somehow that has giving him psychic abilities. All he has to do is touch a person or an object and he can see what has either happened in the past or what is going to happen in the future. Johnny also discovers that his fiancée, Sarah, had met someone else and is now married and raising a child, that turns out to be Johnnys, with her new husband.
At first Johnny is quite confused by visions that he is having but it does not last long before he realizes what it is that he is seeing. Before even being released from the hospital Johnny not only saves the daughter of one of his nurses by seeing a fire at her home when she touches him but also he helps to find the mother of his Vietnamese doctor who everyone though died during the fall of Saigon.
Before too long Johnny starts to help the local sheriff, Walt Bannerman who happens to be Sarahs new husband. With his gift Johnny is able to help Walt solve several cases, from missing persons to serial killers. There was even an episode where Johnny had to serve jury duty. The defendant is obviously guilty, to everyone except Johnny that is. In the end he manages to change the minds of the other jurors and an innocent man is saved.
In the final episode of season one Johnny meets someone from his past, Greg Stillson, the son of a bible salesman who will eventually become a senator. The moment that Johnny shakes hands with Stillson he sees what he believes is the end of the world. Even though Johnny continues to help the police and have other visions as well, at that point the main focus of the show becomes stopping Stillson from ending life as we know it.
Sunday 10:00 PM et/pt on USA

6 Seasons,

80

Episodes - Canceled/Ended

June 16, 2002

10

/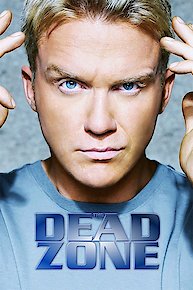 The Dead Zone

Full Episode Guide
In the thrilling series finale, Johnny's visions of Walt lead to a shocking discovery about Johnny's dad as secrets from the past are revealed.

Johnny and Sheriff Turner's lives are on the line as they pursue two separate criminal investigations that lead them both back to Walt.

In jail for a crime he didn't commit, Johnny risks everything to run from the law and try to prevent his psychic friend Alex Sinclair from being murdered.

During a visit with Bruce, Johnny is struck with a vision of a valuable filly being stolen on the eve of a big horse race.

Episode

9

-

Transgressions
Episode

11

-

The Hunting Party

Episode

10

-

Into the Heart of Darkness

Episode

5

-

The Inside Man

Episode

4

-

Articles of Faith

Episode

2

-

Independence Day

Episode

1

-

Forbidden Fruit
If You Like The Dead Zone, Then Try...