Watch The Grammy Nominations Concert Live
The road to Music's Biggest Night begins with "The GRAMMY Nominations Concert Live!!" - featuring the announcement of nominations in several categories and performances by past GRAMMY winners and/or nominees.
1 Season,

4

Episodes - Special Event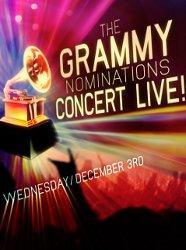 The Grammy Nominations Concert Live

Full Episode Guide
Episode 4 - THE GRAMMY NOMINATIONS CONCERT LIVE! ...

Episode 3 - The Grammy Nominations Concert Live: ...

Watch the Grammy Nominations Concert Live: 2010.

Episode 2 - The Grammy Nominations Concert Live: ...

Episode 1 - The Grammy Nominations Concert Live: ...
If You Like The Grammy Nominations Concert Live, Then Try...
The Grammy Nominations Concert Live News
What Inspired Lady Gaga's 'Marry The Night': 'One Of The Worst Days Of My Life'
Sure, she can be "odd." That is, she's "odd" as long as by "odd" you mean that she can seem eye-rollingly self-indulgent, lets her manufactured image overshadow really considerable talent sometimes and seems more than a little out-of-touch at times with how Earth-born humans think. But one must also give her this much: she expresses things nearly everybody at some point feels, but does so often in ways nobody else would think to express them. And it works.
Watch the Premiere of Lady Gaga's Fascinating New Video 'Marry the Night'
After debuting a live performance of the song "Marry the Night" at last evening's Grammy Awards nomination concert, Lady Gaga has released the brand new video for the song tonight earlier than expected. In the new video, she gets naked and rolls around a mental institution, so in other words it's sort of like a video about a Tuesday in Gaga's usual week. Seriously, though, this is one of the boldest and most experimental videos to come from any major pop star in recent memory, featuring 13 minutes of footage melding a short film, music video, sex, fashion, and a spoken word monologue describing Gaga's philosophy, which boils down to this: "It's not that I've been dishonest, it's just that I loathe reality.
Enjoy These Grammy Nomination Concert Performances From Lady Gaga, Rihanna
So Kanye West took the lion's share of 2012 Grammy nominations with seven total nods, and Adele, Bruno Mars and Foo Fighters racked up more than a few in big categories themselves. That by no means meant that Lady Gaga and Rihanna wouldn't add some heat of their own with a couple fired-up live performances like only they can deliver. Gaga took the stage decked out like a "Thriller" extra that didn't ditch the makeup before hitting the club scene. She ended up delivering a live rendition of "Marry The Night" swimming in a sea of backup dancers and fog that proved her theatrics don't always eclipse her raw talent.
VIDEO: Lady Gaga Rocks Rome's Gay Pride Parade and Concert
Lady Gaga brought a daring message to the people of Rome while playing for the 2011 Gay Pride Parade and Concertthis weekendt. In the same venue, Circus Maximus, where ancient Romans gathered for chariot races and mass spectacles, Lady Gaga played a medley of "Born this Way" and "The Edge of Glory" before grabbing center stage to denounce discrimination against gays and transgender people in a country that does not allow same-sex marriage or adoption by gay couple. According to The Christian Science Monitor organizers for the event hoped the message of defiance would reach the Vatican.
2011 Grammy Nominations Are In! Eminem and Lady Antebellum Top Contenders
And the nominees are…The Grammy Nominations Concert Live once again offered the audience with exciting and memorable performances from talented artist of the music industry Wednesday night on CBS for the 53rd Grammy Awards. Rapper Eminem and the band Lady Antebellum appeared to be the top contenders for the Record of the Year as well as the Album of the Year Awards. Eminem's song's LOVE THE WAY YOU LIE AND RECOVERY were nominated for the Best Record of the Year and Album of the Year Awards while Lady Antebellum's NEED YOU NOW was nominated for both categories.