Watch The Legend of Korra
Following the widespread success of Avatar: The Last Airbender, Nickelodeon's latest animated adventure continues the story in The Legend of Korra. Set 70 years after the original show, The Legend of Korra stars the world's newest Avatar, a girl named Korra from the Southern Water Tribe. Like her predecessor, Aang, Korra is able to control all four elements: earth, water, air and fire. At the beginning of the show, she has mastered water, earth and fire, but lacks the patience and spirituality required to master airbending. Korra must overcome her troubles with the element, however, or face dire consequences. Her world is changing, as technology advances and humanity flourishes, leaving many questioning the necessity of the Avatar.
Bored with her life of isolation and constant training at the South Pole, Korra eagerly awaits the arrival of her new airbending master, Aang's son Tenzin. Unfortunately, the visit is short-lived as Tenzin is called away to important business in his home, Republic City. Korra, frustrated and upset, makes her escape and follows Tenzin to the city. Upon her arrival, Korra quickly learns that no amount of Avatar training can prepare her for a life of politics and intrigue. She wanders the streets of Republic City with her polar-bear-dog Naga, until a collision with the local police force puts her back into Tenzin's custody. Korra convinces him to let her remain in the city to complete her training, and in the process meets a pair of orphaned boys who quickly become her fast friends.
Although she soon makes a name for herself playing Republic City's sport of choice, pro-bending, Korra is not welcomed by everyone. There is a growing anti-bending movement within the city, led by a mysterious group calling itself the Equalists. Their leader is a shadowy figure named Amon, gifted with a power that even Korra fears. The only way Korra can overcome the Equalists is by getting in touch with her past lives, including Aang himself: something she is hesitant to attempt. As if that wasn't enough, she must also learn to balance her training with the needs of her friends and the challenges of growing up. Action, romance and friendship are all blended together through superb storytelling and direction.
The Legend of Korra premiered on April 14, 2012, and is scheduled to run for 26 episodes over two seasons. The second season is expected to air sometime in 2013, and there has been speculation that a third may follow in 2014.
Saturday 11:00 AM et/pt on Nickelodeon

4 Seasons,

53

Episodes - Currently Airing

April 14, 2012

10

/
Watch Full Episodes of The Legend of Korra

Season 4 Episode 13
The Last Stand
Season 4 Episode 12
Day of the Colossus
Season 4 Episode 11
Kuvira's Gambit
Season 4 Episode 10
Operation: Beifong
Season 4 Episode 9
Beyond the Wilds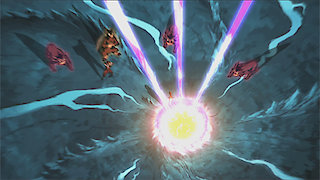 Season 4 Episode 8
Remembrances

The Legend of Korra

Full Episode Guide
Season
4
13 full episodes
Episode

13

-

The Last Stand

The fate of the Earth Kingdom and the Avatar's life is threatened when Korra comes face to face with Kuvira.

Episode

12

-

Day of the Colossus

Team Avatar clashes with Kuvira on the streets of Republic City; Pema and Prince Wu help evacuate innocent citizens.

Episode

11

-

Kuvira's Gambit

Korra and Team Avatar try to stop Kuvira from moving against Republic City; Kuvira unveils a deadly new weapon.

Episode

10

-

Operation: Beifong

Bolin helps Opal and Lin save the Beifongs from Kuvira; Korra visits the Spirit World looking for help.

Episode

9

-

Beyond the Wilds

The spirit vines in Republic City start abducting people and it's up to Korra to figure out why.

A look back at Team Avatar's journey; Varrick tells the story of the greatest move ever made.

Korra returns to Republic City and Team Avatar faces their first mission together in three years when Prince Wu goes missing; Bolin and Varrick are on the lam.

Episode

6

-

Battle of Zaofu

Korra returns to her role as the Avatar, but is she really ready for action? Bolin and Varrick break from Kuvira's army.

Episode

5

-

Enemy at the Gates

Kuvira threatens Zaofu; Bolin is caught in the middle of the bad blood between Su Beifong and Kuvira.

Tenzin tasks Jinora, Ikki, and Meelo with a mission of the utmost importance - to find Korra.

Episode

3

-

The Coronation

Prince Wu's big day is ruined by Kuvira; Korra thinks she may have found the key to a full recovery.

Korra's three-year journey of healing takes her to unexpected locations.

Episode

1

-

After All These Years

It's been three years since Zaheer poisoned Korra and the members of Team Avatar have moved on with their lives; Kai and Opal help a struggling Earth Kingdom town.
Season
3
13 full episodes
Episode

13

-

Venom of the Red Lotus

Zaheer enacts his deadly plan.

Episode

12

-

Enter the Void

Korra makes the ultimate sacrifice.

Episode

11

-

The Ultimatum

Mako and Bolin deliver an ominous message from Zaheer.

Episode

10

-

Long Live the Queen

Team Avatar travels to Ba Sing Se to search for Airbenders.

Korra participates in a stakeout.

Episode

8

-

The Terror Within

Zaheer and his friends plot to kidnap Korra.

Episode

7

-

Original Airbenders

Tenzin tries to train new members while dealing with Bumi's attitude.

Beifong has to own up to her past.

Episode

5

-

The Metal Clan

Korra and her friends make their way to the metal city of Zaofo.

Episode

4

-

In Harm's Way

Korra discovers the Ice Queen's plan to recruit people.

Episode

3

-

Meet the Family

Team Avatar journey to Ba Sing Se to look for airbenders.

Episode

2

-

Rebirth of a Nation

Korra and Team Avatar attempt to re-establish the air nation.

Episode

1

-

A Breath of Fresh Air

In the third season premiere, Korra discovers that a major shift has occurred in the bending world.
Season
2
15 full episodes
Season
1
12 full episodes
If You Like The Legend of Korra, Then Try...
Most Popular The Legend of Korra Episodes
Season 4 Episode 13

The Last Stand

12/19/2014

Season 4 Episode 2

Korra Alone

10/09/2014

Season 4 Episode 1

After All These Years

10/03/2014

Season 4 Episode 9

Beyond the Wilds

11/28/2014

Season 4 Episode 10

Operation: Beifong

12/05/2014