Watch The Little Mermaid
Series Length:
3 Seasons,

31

Episodes
Schedule:
Toon Disney on Disney
Description:
When Ariel finds an abandoned baby whale, she decides to take care of him and be his Mother. She names him Spot, but when Spot causes mass destruction around the kingdom, Ariel decides to teach him how to survive in the wild.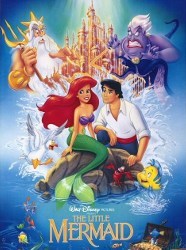 The Little Mermaid

Full Episode Guide
Episode 8 - A Little Evil

The Evil Manta has a son who wants to follow in his father's evil footsteps, but he shows signs of good. Ariel finds him, and tries to bring that good out in him.

Episode 7 - Ariel's Treasures

Ariel treasures her items from the humans of above. She shows her items to Gabriella and she loves them too, but someone else saw Ariel's treasures to. Ursula, and now she's using her evil spells to take control over Ariel's treasure's so they can destroy Atlantica.

Episode 6 - The Beast Within

Ariel, Urchin, Flounder and Sebastian go on an adventure to Quaking Canyon and Flounder gets bitten by a Howling Hairfish! The legend is, that if you get bitten by a howling hairfish, you turn into one! Can Ariel and the others save Flounder before the mob of angry villagers get to him? In a B-story, Sebastian gets a trophy from Triton for 25 years of dedicated service! Then, Urchin breaks the trophy as they're escaping from the howling hairfish. Could this be the end of Sebastian and Urchin's friendship?

King Triton, and the other residents from Atlantica are very happy to know that their hero Apollo is returning to Atlantica. Ariel and Flounder ask Triton who he is, and Triton explains. 20 years ago during the Sargasso War, Atlantica was in a battle between the Octipins who contained a triton that was more magically than King Triton's triton. Apollo, in the vines snuck up on them and broke it. After the story Apollo appears. He and Ariel go on an adventure, but Ariel and Flounder soon find out that his victory over the Atlanticans was an accident. Ursula revives the Octipins and gives them 8 magic tritons, and now Apollo becomes a hero for real.

Episode 4 - Land of the Dinosaurs

Episode 3 - Island of Fear
Episode 9 - T'ank You for Dat, Ariel

Episode 7 - Tail of Two Crabs

Episode 6 - Wish upon a Starfish

Episode 4 - Against the Tide

Episode 3 - Save the Whale

Episode 2 - Calliope Dreams

Episode 1 - Resigned to It
If You Like The Little Mermaid, Then Try...