Watch The Next Big Thing: NY
Trapper Felides is known all over the entertainment and musical industry for his preciseness and style. He lives in the artistic hub of New York where he takes on many clients hoping to be talented. The show consists of Felides coaching these clients to whip them into perfection for their various life dreams. He also gets personal with his clients in addition to expecting so much out of them which is why he is so loved. He has experience in this industry and helps to shed light on it to those who are not as knowledgable in the subject. He proves to be effective.
Tuesday 11:00 PM et/pt on Oxygen

1 Season,

6

Episodes - New Series

June 12, 2012

10

/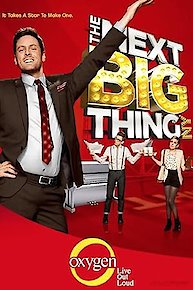 The Next Big Thing: NY

Full Episode Guide
Episode

6

-

Nobody Puts Baby T in a Corner

Trapper is directing a music video for a client; Baby T has difficulty preparing a star studded charity event; Tracy gets an important audition.

Episode

5

-

It's a Hard Knock Life for Trapper

While prepping the girls for an audition, Trapper's assistant Tracy, leaves the team in a predicament.

Episode

4

-

Stage Mommy Dearest

Trapper takes on two clients whose careers are threatened because of their controlling mothers.

Episode

3

-

Not So Sweet 17

While Trapper struggles to launch the career of an up and coming pop star, he entrusts his Tracy and Baby T to plan an over the top 17th birthday bash for his most important client.

Episode

2

-

Trapper Nose Best

Episode

1

-

Showtime At The Apollo!
If You Like The Next Big Thing: NY, Then Try...