Watch The Next Big Thing: NY
Trapper Felides is New York's #1 performance coach who gives his clients the blunt truth and tough love they need to succeed. The series will follow Felides as he mentors a group of performers as they prepare for their next career changing audition. Viewers will get an uncensored look at Trapper's followers, their families and his tough love methods.
Tuesday 11:00 PM et/pt on Oxygen

1 Season,

6

Episodes - New Series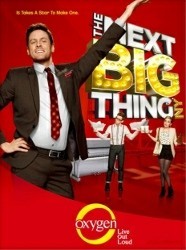 The Next Big Thing: NY Video Clips & Extras
The Next Big Thing: NY

Full Episode Guide
Season 1
(2 clips available)
Episode 6 - Nobody Puts Baby T in a Corner

Trapper is directing a music video for a client; Baby T has difficulty preparing a star studded charity event; Tracy gets an important audition.

Episode 5 - It's a Hard Knock Life for Trapper

While prepping the girls for an audition, Trapper's assistant Tracy, leaves the team in a predicament.

Episode 4 - Stage Mommy Dearest

Trapper takes on two clients whose careers are threatened because of their controlling mothers.

Episode 3 - Not So Sweet 17

While Trapper struggles to launch the career of an up and coming pop star, he entrusts his Tracy and Baby T to plan an over the top 17th birthday bash for his most important client.

Episode 2 - Trapper Nose Best

Episode 1 - Showtime At The Apollo!
If You Like The Next Big Thing: NY, Then Try...