Watch The Osbournes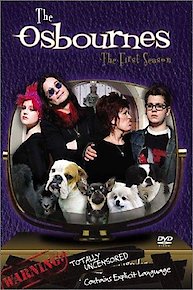 The Osbournes

Full Episode Guide
Episode

10

-

A Farewell to Ozz

Dr. Phil McGraw pays a visit to the Osbournes family. Ozzy, Sharon, Kelly and Jack share their experiences and feelings with each other on being an Osbourne.

Episode

9

-

The Show Must Go Off!

Episode

8

-

Lozt in Translation

The family travels to Japan, where Ozzy is to receive the Legend Award at the Video Music Awards. Kelly also makes several personal appearances. One of the employees, Sam, meets with some family members whom he hasn't seen in years, but can only communicate with them through a translator.

Episode

7

-

Number One Fan

A 25-year-old fan wins a charity auction for the right to spend the day with Sharon. Sharon is touched by the woman's generosity and invites her to spend the night at the Osbourne home. Meanwhile, Jack must attend an online traffic school after getting a speeding ticket.

Sharon and Kelly plan a trip to Kenya on behalf of a charity organization. Ozzy doesn't want them to go, as he fears they will be kidnapped or contract malaria. Sharon also has second thoughts after hearing more details about the trip. The family receives a visit from Sir Elton John, who gives Ozzy an expensive necklace that leaves him feeling a bit embarrassed; and goes on a shopping spree with Sharon, Jack and Kelly. Ozzy, Sharon and Kelly later attend an event in honor of Covenant House, where Sharon receives an award and Kelly bids on a puppy.

Episode

5

-

28 Days Later

Kelly struggles to adjust to life in rehab, and frequently calls home requesting various personal belongings. She wants to leave, but Jack urges her to tough it out. Jack celebrates both his birthday and a year of sobriety. Kelly arrives home and becomes frustrated by the curfew and other rules she must follow. She clashes with her mother often, and accuses Sharon of messing with her head when she expresses her concerns.

Episode

4

-

Kelly Interrupted

Kelly irritates her mother by getting a lip ring. Ozzy and Jack are convinced that Kelly's erratic behavior and chronic illness are the result of drug use, but Sharon refuses to hear of it. Kelly eventually admits the truth to Sharon and enters rehab. Ozzy and Sharon don't believe she will stay at the facility for long.

Episode

3

-

Hawaii Five Ozz (2)

Ozzy, Sharon and Jack head to Hawaii for their vacation. Ozzy continues to be miserable for a while, but cheers up following a private luau. Jack goes diving in a shark cage. His friends invite strippers to the luau, and behave in ways that embarrass him. The traveling party winds up leaving without Jack's friends when they fail to show up on time for their flight.

Episode

2

-

Have Ozz Will Travel (1)

The family tries to decide where to go on vacation. Sharon turns down Fiji because none of the hotels meet her standards, while Ozzy nixes a number of other locations for various reasons. Sharon ultimately decides on Hawaii, although Ozzy is still reluctant to go. Meanwhile, Kelly wins a major role in a television pilot. She must miss out on the family's vacation to go to Vancouver for filming.

Episode

1

-

Sleepless in Beverly Hills
Episode

10

-

Valentine Daze

Kelly continues to spend time with Rob, but doesn't want to be his girlfriend because he wants a committed relationship and she feels that she is too young to settle down. Sharon and Melinda try to convince her to change her mind. Jack heads off to Las Vegas. Ozzy and Sharon worry that he will spend too much time gambling. Kelly tells her parents that she is going to drive to San Diego. They don't want her to go, but eventually offer their approval. She actually has lied and is headed to Vegas as well. Ozzy becomes annoyed with Sharon for trying to decorate his studio. Ozzy and Sharon spend Valentine's Day together and express the hopes that their kids will meet someone special soon. They reflect on their years together.

Episode

9

-

Ozzy Knows Best

Ozzy is upset by Kelly's tendency to wear revealing outfits when she goes out to clubs and parties. She feels that he is being overprotective. Ozzy worries about the behavior of one of the bulldogs, Colin, as he is attacking the other dogs (especially Lola). He tries to give him away to an employee, but Jack strongly objects. Ozzy grows frustrated, as he feels that no one pays attention to anything he says. He and Jack eventually patch things up, and Sharon tries to get through to Kelly.

Episode

8

-

Pain in the Neck

Episode

7

-

Scent of a Woman

Kelly annoys everyone, particularly Sharon, with her disgusting lack of personal hygiene as she refuses to shower for a long period of time. She is upset when Sharon accuses her of smoking. Ozzy receives a letter supposedly from the Prime Minister of Canada asking him to come to Canada to receive an award. Ozzy, however, suspects that the whole thing is a hoax.

Episode

6

-

The English Patient (2)

Episode

5

-

The Accidental Tourist (1)

Kelly and Ozzy plan to travel to England, where they are to perform a duet of "Changes," the title track from Kelly's sophomore album, on Top of the Pops. Ozzy upsets Kelly by saying that he doesn't want to come with her, but Sharon assures her that he will change his mind. Kelly's boyfriend, Rob, joins her on the trip. Ozzy annoys Kelly when he immediately complains of boredom and says that he wants to go back to Los Angeles. They later get along well while riding ATVs on the family's estate. Everyone seems pleased with their duet, and Ozzy predicts that it could hit number one on the U.K. charts. Before a talk show appearance, Kelly gets into a fight with Rob. They apparently break up, and he returns to the U.S. Ozzy suffers an accident while riding one of the ATVs. His bodyguard finds him lying on the ground, unconscious.

Episode

4

-

Return of the Ring

Episode

3

-

Rebel Without an Ozz

Episode

1

-

The Show Must Go Oz

Sharon faces pressure from the powers that be behind her talk show, who are disappointed in her performance and expect her to work harder. She refuses to incorporate their suggestions into the show. Kelly and Jack grow tired of appearing on Sharon's show; both refuse her request for a co-hosting appearance. Ozzy very reluctantly agrees to appear in the Halloween episode. He believes that he is going to just be a guest, and is furious when he learns (at the last minute) that he is to serve as co-host. Meanwhile, the Osbournes' property undergoes some re-decorating. The workmen struggle to move a gigantic Buddha statue across the yard.
The Osbournes News
'The Osbournes' Is Coming Back...On VH1
Rock's royal family will return to their reality show a decade later.
Kelly Osbourne Hospitalized After Seizure
Kelly Osbourne had a seizure on set during filming an episode of "Fashion Police". See how the starlet is doing.
Jack Osbourne: Honeymoon Hero?
Osbourne spend the weekend in Hawaii, oh, you know, getting married, saving lives and stuff. No big deal.
Jack Osbourne's MS Diagnosis Fueled Sister Kelly's Relapse
Give her this: she's at least remaining accountable. Kelly Osbourne doesn't deny she had an alcohol-fueled breakdown during a recent flight, but claims it was her brother's recent MS diagnosis that pushed her too far. It's not the first time she's had a drink since her 2009 rehab, but holds herself to honesty about it.