Watch The Osbournes
Following rock star Ozzy Osbourne and his family, "The Osbournes" is a MTV reality show. Premiering in 2002, this program chronicles the former musician as he struggles to deal with the family's drama, including his own battles with substance abuse and his wife's fight against cancer.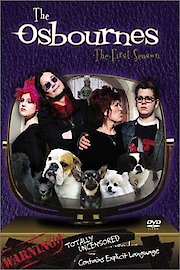 The Osbournes

Full Episode Guide
Episode 10 - A Farewell to Ozz

Dr. Phil McGraw pays a visit to the Osbournes family. Ozzy, Sharon, Kelly and Jack share their experiences and feelings with each other on being an Osbourne.

Episode 9 - The Show Must Go Off!

Episode 8 - Lozt in Translation

The family travels to Japan, where Ozzy is to receive the Legend Award at the Video Music Awards. Kelly also makes several personal appearances. One of the employees, Sam, meets with some family members whom he hasn't seen in years, but can only communicate with them through a translator.

Episode 7 - Number One Fan

A 25-year-old fan wins a charity auction for the right to spend the day with Sharon. Sharon is touched by the woman's generosity and invites her to spend the night at the Osbourne home. Meanwhile, Jack must attend an online traffic school after getting a speeding ticket.

Episode 5 - 28 Days Later

Episode 4 - Kelly Interrupted

Episode 3 - Hawaii Five Ozz (2)

Episode 2 - Have Ozz Will Travel (1)

Episode 1 - Sleepless in Beverly Hills
Episode 10 - Valentine Daze

Episode 9 - Ozzy Knows Best

Episode 8 - Pain in the Neck

Episode 7 - Scent of a Woman

Episode 6 - The English Patient (2)

Episode 5 - The Accidental Tourist (1)

Episode 4 - Return of the Ring

Episode 3 - Rebel Without an Ozz

Episode 1 - The Show Must Go Oz
If You Like The Osbournes, Then Try...
The Osbournes News
'The Osbournes' Is Coming Back...On VH1
Rock and roll legends never truly die...and neither do their reality shows, apparently. "The Osbournes" is coming back to television, 10 years after it ended its run on MTV. Back then, the show ran for four seasons and even earned itself an Emmy for Outstanding Reality Program in 2002. The show, for those unfamiliar, centers on the Osbourne family: Ozzy, Sharon, Jack and Kelly, and their slightly dysfunctional but oddly sweet life at home. "The Osbournes" practically launched Kelly Osbourne's career, as she now has steady work as a TV personality and hosts "Fashion Police" as well as numerous red carpet events.
Kelly Osbourne Hospitalized After Seizure
Kelly Osbourne, daughter of rocker Ozzy Osbourne and ex-"America's Got Talent" judge Sharon Osbourne, began to feel ill on set during filming an episode of "Fashion Police". She soon had a seizure, and began to collapse, but was helped to the ground by her co-host Melissa Rivers. Is there a doctor in the house!? Luckily, there was. A member of the audience was a trained medical professional rushed the stage to help her. She was taken by ambulance to a nearby hospital, where she reached a stable condition within a few hours.
Jack Osbourne: Honeymoon Hero?
Is Jack Osbourne a real-life hero? Officially, yes! While enjoying their Hawaiian honeymoon with his new wife Lisa Stelly, "The Osbournes" star and his friend Tyler noticed a woman struggling in the water. The two dove in and brought her to shore. Stelly tweeted: "Really proud of Jack and his friend Tyler who saved a woman on the beach yesterday who'd had a heart attack and drown. They resuscitated her until the ambulance came. We just found out she's in stable condition! Awesome!" That's a pretty exciting way to round off your wedding weekend.
Jack Osbourne's MS Diagnosis Fueled Sister Kelly's Relapse
Everything considered, the have been far worse motivators behind an addict's relapse. Kelly Osbourne told RadarOnline recently that her brother Jack's recent multiple sclerosis diagnosis pushed her over an edge and into her recent mid-flight alcoholic relapse. The daughter of hard rock (and hard-living) legend and cautionary tale Ozzy Osbourne and wife Sharon was helped by an assistant off a June 19 flight from Los Angeles to Atlanta after being spotted downing four or five alcoholic beverages during her travels.