Watch The Osbournes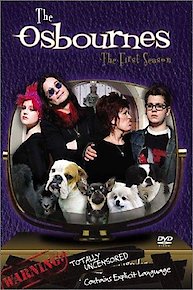 The Osbournes

Full Episode Guide
Episode

10

-

A Farewell to Ozz

Dr. Phil McGraw pays a visit to the Osbournes family. Ozzy, Sharon, Kelly and Jack share their experiences and feelings with each other on being an Osbourne.

Episode

9

-

The Show Must Go Off!

Episode

8

-

Lozt in Translation

The family travels to Japan, where Ozzy is to receive the Legend Award at the Video Music Awards. Kelly also makes several personal appearances. One of the employees, Sam, meets with some family members whom he hasn't seen in years, but can only communicate with them through a translator.

Episode

7

-

Number One Fan

A 25-year-old fan wins a charity auction for the right to spend the day with Sharon. Sharon is touched by the woman's generosity and invites her to spend the night at the Osbourne home. Meanwhile, Jack must attend an online traffic school after getting a speeding ticket.

Episode

5

-

28 Days Later

Episode

4

-

Kelly Interrupted

Episode

3

-

Hawaii Five Ozz (2)

Episode

2

-

Have Ozz Will Travel (1)

Episode

1

-

Sleepless in Beverly Hills
Episode

10

-

Valentine Daze

Episode

9

-

Ozzy Knows Best

Episode

8

-

Pain in the Neck

Episode

7

-

Scent of a Woman

Episode

6

-

The English Patient (2)

Episode

5

-

The Accidental Tourist (1)

Episode

4

-

Return of the Ring

Episode

3

-

Rebel Without an Ozz

Episode

1

-

The Show Must Go Oz
The Osbournes News
'The Osbournes' Is Coming Back...On VH1
Rock's royal family will return to their reality show a decade later.
Kelly Osbourne Hospitalized After Seizure
Kelly Osbourne had a seizure on set during filming an episode of "Fashion Police". See how the starlet is doing.
Jack Osbourne: Honeymoon Hero?
Osbourne spend the weekend in Hawaii, oh, you know, getting married, saving lives and stuff. No big deal.
Jack Osbourne's MS Diagnosis Fueled Sister Kelly's Relapse
Give her this: she's at least remaining accountable. Kelly Osbourne doesn't deny she had an alcohol-fueled breakdown during a recent flight, but claims it was her brother's recent MS diagnosis that pushed her too far. It's not the first time she's had a drink since her 2009 rehab, but holds herself to honesty about it.