Watch The Osbournes
Following rock star Ozzy Osbourne and his family, "The Osbournes" is a MTV reality show. Premiering in 2002, this program chronicles the former musician as he struggles to deal with the family's drama, including his own battles with substance abuse and his wife's fight against cancer.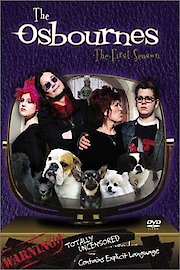 The Osbournes

Full Episode Guide
Episode 10 - A Farewell to Ozz

Dr. Phil McGraw pays a visit to the Osbournes family. Ozzy, Sharon, Kelly and Jack share their experiences and feelings with each other on being an Osbourne.

Episode 9 - The Show Must Go Off!

Episode 8 - Lozt in Translation

The family travels to Japan, where Ozzy is to receive the Legend Award at the Video Music Awards. Kelly also makes several personal appearances. One of the employees, Sam, meets with some family members whom he hasn't seen in years, but can only communicate with them through a translator.

Episode 7 - Number One Fan

A 25-year-old fan wins a charity auction for the right to spend the day with Sharon. Sharon is touched by the woman's generosity and invites her to spend the night at the Osbourne home. Meanwhile, Jack must attend an online traffic school after getting a speeding ticket.

Episode 5 - 28 Days Later

Episode 4 - Kelly Interrupted

Episode 3 - Hawaii Five Ozz (2)

Episode 2 - Have Ozz Will Travel (1)

Episode 1 - Sleepless in Beverly Hills
Episode 10 - Valentine Daze

Episode 9 - Ozzy Knows Best

Episode 8 - Pain in the Neck

Episode 7 - Scent of a Woman

Episode 6 - The English Patient (2)

Episode 5 - The Accidental Tourist (1)

Episode 4 - Return of the Ring

Episode 3 - Rebel Without an Ozz

Episode 1 - The Show Must Go Oz
If You Like The Osbournes, Then Try...