Watch The Pillars Of The Earth Online - Full Episodes
Series Length:
1 Seasons,

8

Episodes
Description:
The Pillars of the Earth is a mini-series based on a book of the same name. The story focuses around the construction of a cathedral in mid twelfth century England. It guides the viewer through the architectural transformation from Romanesque to Gothic and how the lives of the villagers are affected by this event. Many people were involved in the cathedral building process and unlike today, it took several decades to construct an edifice of such importance and stature. With the intriguing setting of medieval England in the backdrop, viewers are able to learn about the intrigues and challenges involved in such monumental projects from five hundred years' ago.
Not unlike the personal challenges we would experience today where love triangles and financial difficulties take precedence in everyday lives, the opportunities that present themselves are quite different. It is difficult for us to even imagine the challenges of cathedral building using primitive technology.
The movie opens up a new world for the viewer where they can appreciate the hard work that went into surviving and reaching one's goals in a medieval world where the king and the church had unquestionable power over the lives of common folk.
Many viewers may have a sketchy concept of how life was lived so many centuries ago. Viewing it on film allows the viewer to gain a greater appreciation for the skills and courage required to live the medieval lifestyle. The characters bring to life people from the past so that one can better feel the reality of the moment. The actors skillfully bring out the personalities of their characters so that the viewer feels both empathy and disdain for the individuals they are introduced to. Bringing history alive is one of the best ways to gain an appreciation and understanding for the cultures of yesteryear.
Many cathedrals have survived the ravages of war and weather. The ability to look at them with a newfound appreciation will help us to contribute to keeping them maintained for centuries to comes.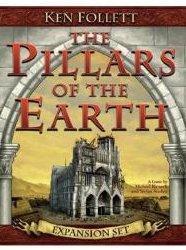 If You Like The Pillars Of The Earth, Then Try...
Most Popular The Pillars Of The Earth Episodes
The Pillars Of The Earth News
Frodo Baggins the pirate? According to Hollywood Reporter, Donald Sutherland and Elijah Wood have recently landed roles in the new Syfy movie "Treasure Island." The classic tale, originally written by Robert Louis Stevenson, is being made in to a two-part TV network movie. It will be filmed in Ireland and in Puerto Rico, and a release date is tentatively scheduled for early 2012.