Watch The Revolution
The Revolution is a reality show combined with a health makeover. The host is the famously fashionable and meticulous Tim Gunn from Project Runway. Tim is joined by fitness trainer Harley Pasternak, designer Ty Pennington, therapist/relationship expert Dr. Tiffanie Davis, and medical consultant Dr. Jennifer Ashton. Together they take women on a path of self-revolution.
Most of the women the show features are very overweight and unhappy in their position in life. While being thing is not the key to happiness, being a healthy weight does often positively impacts a person's health so a diet and exercise regime are part of the majority of the revolutions. The diets are tailored to the client but are chuck full of sound advice for the viewer as well. The fitness routines are intended to compliment the diet in the weight loss process and it is a key lesson that diet and exercise go hand in hand.
Each woman is given the opportunity to reinvent herself with the guidance of Tim for fashion and Dr. Davis for social or personal enlightenment. Tim Gunn works with the woman to bring them into the style that best suits them, their place in life, and their true personality. It is the woman's job to follow the plan but Tim puts them on the path. Dr. Davis works with the women to make a plan to realize their best self. Each woman's situation is unique but issues of inadequacy, shyness, and anxiety are very common and often the root of stress eating. Dr. Davis offers suggestions on how to overcome these stresses.
Ty Pennington, made famous by Trading Spaces, is in charge of the design and redesign for each of the woman's homes. The visual changes made by Ty mirror the physical and psychological changes the others are working on.
The Revolutions takes time as it includes a weight-loss and exercise plan, however each episode is a timeline of the Revolution. The episode focuses on the guidance from the hosts and how makeover and design changes look, then, follow up visits and finally a concluding meeting to show the results of the revolution. The women put in the work but they have a team to help them succeed.
Wednesdays on History Channel

1 Season,

13

Episodes - Canceled

July 4, 2007

10

/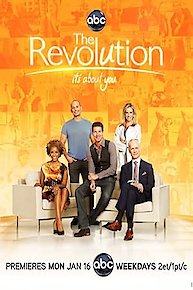 The Revolution

Full Episode Guide
Episode

13

-

A President and His Revolution

George Washington becomes the nation's first president. His accomplishments are assessed.

Episode

12

-

Road to the Presidency

Selected as the first president of the United States, George Washington journeys from his home in Virginia to New York City for his inauguration.

Episode

11

-

Becoming a Nation

The Revolution ends when the Treaty of Paris is signed in 1783. Also featured in this episode is the Constitutional Convention of 1787.

Episode

10

-

The End Game

Yorktown, the final major battle of the Revolutionary War, is recounted.

Episode

9

-

A Hornet's Nest

Episode

8

-

The War Heads South

Episode

7

-

Treason and Betrayal

Episode

6

-

Forging an Army

Episode

5

-

Path to World War

Episode

4

-

American Crisis

Episode

3

-

Declaring Independence

Episode

2

-

Rebellion to Revolution

Episode

1

-

Boston, Bloody Boston