Watch The Ultimate Fighter Live
The Ultimate Fighter Live TV show features different fights from fighters in different weight classes on different teams. The winner of this fight moves on for the quest for a contract with the UFC. The show has contestants that are scheduled to fight against each other. The fighters have time to prepare and be coached by those that have had success in the UFC.
The fighters are put in the octagon and have to follow the same rules that the UFC fighters do. There are referees to make sure the fight is fair and three judges to score the match. If a player gets knocked out or taps out, the other fighter wins and the fight can stop. If both fighters are standing and able to fight it is up to the judges to decide who wins.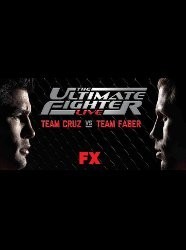 The Ultimate Fighter Live

Full Episode Guide
Just a day after moving into the TUF House, vicious smack talk begins between the fighters. Roy Nelson and Shane Carwin pick their squads and begin training. Then the first two welterweights face off in the first preliminary fight.

The Ultimate Fighter returns with an adrenaline-pumping two hour season premiere. 32 promising welterweights face off, hoping to claim 16 spots in The Ultimate Fighter house.
Episode 13 - Season Finale

Sixteen promising mixed martial artists live together in The Ultimate Fighter house and train with opposing teams and coached by Dominick Cruz and "The California Kid" Urijah Faber, who are also preparing for an upcoming title fight.

Episode 12 - Reality Check

Tickle and Cruickshank get violent in the house. Dana makes a surprise announcement. Teams Cruz and Faber go to war for a spot in the Finale, as Vick takes on Chiesa and Pichel faces Iaquinta in the last 2 Semifinal fights.

Episode 10 - So Real It's Unreal

Episode 9 - Become That Hero

Episode 8 - The Lion's Den

Episode 7 - Weather the Storm

Episode 6 - Dog With No Bark

Episode 5 - Miserable Feeling

Episode 4 - All the Pressure

Episode 3 - Old School vs. New School

Episode 2 - Embrace the War

Episode 1 - The Ultimate Fighter Live