Watch The Young Riders
The young riders TV series was a fantastic and exciting western adventure about young pony express riders in the Nebraska territory in the years leading up to the Civil War. The show depicted the adventures of these young inventors, mail carriers in a realistic yet fancifully exciting fast they consistently have run-ins with Indians and outlaws and almost every kind of danger that nature can throw their way and then there is also the drama brought on by the riders themselves trying to survive in this extremely harsh environment and hold onto friendships and their humanity. All of these individuals are outcasts in society. The pony express prefers young boys definitely unmarried, particularly orphan as that way if something bad does occur no one is likely to come grieving over the lost rider.
The cast of characters is also quite unique and entertaining, and may include such outstanding western figures. As William F. Cody, (Buffalo Bill) and James Butler Hickok (wild Bill) and even a young Jesse James take part in the adventures of the pony express riders but the vast majority of riders portrayed in the show are just your average young man looking for adventure and a way to put food in their stomachs. All the characters have a unique personality set of skills and background that makes each one of them extremely intriguing and leaves the viewer wanting to see more of their lives each week of the prominent individuals, who paid for his horse with his winnings from a boxing match to a girl that disguises herself as a boy just so she can become a pony express rider and prove that girls can do anything boys can do and usually better. There are characters like former Texas Rangers, one of which happened to be counted among the small number of survivors at the Alamo there is also the cursory Native American rider who knows everything there is to know about the woods and every inch of trails that crisscross is the map so that he can get anywhere as efficiently as possible, all without being seen by anyone if he wishes.
This show is typically aimed at young adults, but anyone that has a passion for the mythology of the old West is sure to find something enjoyable about this program and at least one or two characters that they will become invested in.
3 Seasons,

69

Episodes - Canceled/Ended

7.5/10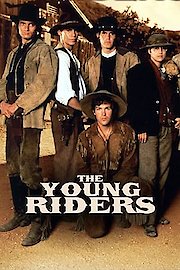 The Young Riders

Full Episode Guide
Episode 22 - Till Death Do Us Part, Part 2

Hickok and the Kid brawl, and Lou and the Kid marry.

Episode 22 - Til Death Do Us Part: Part 2

Episode 21 - Till Death Do Us Part, Part 1

With the Civil War looming, Cody enlists as a Union scout.

Episode 21 - Til Death Do Us Part: Part 1

Teaspoon hires a new rider to replace Lou when she gets married. After the new guy dissappears on his first ride, Lou and Jimmy head out to check on him -- but no one in the town is willing to talk about what happened.

Episode 19 - Lessons Learned

One of Teaspoon's ex-wives, Polly, moves to town, and she's got love on the menu when she buys the saloon. Meanwhile, after the court overturns his conviction, a gunslinger goes after the men who put him in jail.

Episode 18 - The Sacrifice

Episode 17 - The Road Not Taken

Episode 16 - Dark Brother

Episode 15 - Mask of Fear

Episode 12 - Song of Isiah

Episode 11 - Good Night, Sweet Charlotte

Episode 10 - A Tiger's Tale

Episode 8 - Just Like Old Times

Episode 5 - The Presence of Mine Enemies

Episode 4 - Between Rock Creek and a Hard Place

Episode 3 - The Blood of Others

Episode 1 - A House Divided
Episode 21 - The Exchange: Parts 1 and 2

Episode 20 - Face of the Enemy

Episode 19 - A Noble Chase

Episode 18 - The Talisman

Episode 14 - The Peacemakers

Episode 12 - Judgement Day

Episode 11 - The Play's the Thing

Episode 10 - Star Light, Star Bright

Episode 8 - Requiem for a Hero

Episode 6 - The Littlest Cowboy

Episode 5 - Pride and Prejudice
Season 1
(1 clip available)