Watch UFC Primetime
UFC Primetime is a show that gives viewers an in depth look into the lives of UFC fighters. The show, which now airs on FX, documents the lives of two opposing fighters as they prepare for their grueling battle in the octagon. Viewers see not only the physical training regimens the fighters endure, but also the mental preparations they make, the people who surround them; this includes, family, friends, trainers, spiritual guides and other fight professionals.
The show originally aired on Spike TV in 2009. It became a hit, gaining over half a million viewers, and now replays on several major networks. Each season airs three episodes which are 30 minutes long. One of the main areas of focus for the show are the fighters' training. Viewers, whether an avid martial artists or not, can enjoy the variety of workouts showcased on the show. It gives a great look not only into the workouts themselves, but also into the psychology of the fighter as they approach each training day and each individual workout.
Another great aspect of the show is that it documents not only the fun aspects of training, but also the difficult aspects as well. Viewers get to see the inner workings of a professional training camp. They see first hand how camps work around particular injuries, lack of sparring partners, the media, equipment issues and travel as well.
Another plus for the show is the look into the personal lives of each fighter. Viewers learn who the inspirations are for each fighter, see their loved ones, and learn how the fighters maintain a healthy work/life balance. Viewers can get a candid look at a loved one who motivates the fighter, whether it is their spouse or child or mother. They can see the fighters eat with them, play with them and discuss their careers with them.
The show has gained acclaim over the years and continues to grow along with the sport. It is a show quite unlike any other which gives a raw look at both seasoned, and up and coming UFC fighters as they prep for an upcoming bout.
Thursdays at 11:00 pm on Spike TV

7 Seasons,

22

Episodes - New Series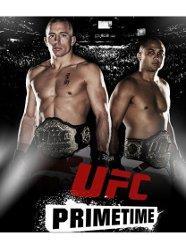 UFC Primetime

Full Episode Guide
Episode 3 - St-Pierre vs. Hendricks, Part 3

Johny Hendricks stops by to visit his alma mater of OSU to hone his wrestling skills while Georges St-Pierre puts the final touches on his fight camp in this episode of UFC Primetime leading up to UFC 167.

Episode 2 - St-Pierre vs. Hendricks, Part 2

From their gyms to their homes to meet-and-greets with the fans, Georges St-Pierre and Johny Hendricks continue to prepare for their UFC 167 battle.

Episode 1 - St-Pierre Vs. Hendricks: Episode 1

One of UFC's best pound-for-pound fighters, Georges St-Pierre has been unbeaten for six years. On November 16th, Montreal's finest will face Johny Hendricks, a two-time NCAA Division I wrestling champion with one-punch knockout power.
Episode 3 - Velasquez vs. Dos Santos III: Episode...

Cain Velasquez and former champion Junior Dos Santos make their final preparations for what promises to be an epic showdown on Saturday.

Episode 2 - Velasquez vs. Dos Santos 3: Episode ...

Episode 1 - Velasquez vs. Dos Santos III: Episod...
If You Like UFC Primetime, Then Try...