Watch Ultimate Africa
Series Length:
2 Seasons,

9

Episodes
Description:
A documentary series where explorer Jean Du Plessis travels through East Africa on a wild and exhilarating ride. He gives viewers an up-close and personal look at the animals and landscape of this marvelous wilderness.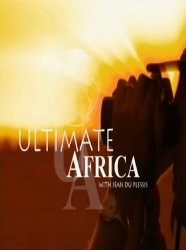 Ultimate Africa

Full Episode Guide
Episode 5 - Journeys into the Bush

Jean takes viewers walking with elephants and hunting with the Hazabe Bushmen. Also, a volcano shakes things up.

Episode 4 - Shadows of the Serengeti

Jean visits the Maswa Game Reserve where very few people except professional hunters ever visit. He talks about poacher management on the wildebeast migration.

Episode 3 - Fugitives of Laikepia

Jean returns to Ol Pejeta and talks to management about problem elephants that use their tusks to break through eletricfied fence and raid local villagers crops. .

Episode 2 - Lost World of Gabon

Jean ventures to Gabon West Africa and takes a look at future tourism spots, wild beaches, un-habituated gorillas, and a close look at the future of Kongou Falls.

Episode 1 - Rhinos of Ol Pejeta
Episode 4 - Guardians of the Serengeti

Episode 3 - Ghosts of Udzungwa

Episode 2 - Dying Pink / Cattle Raiders of the Ni...

Episode 1 - Crosshairs of Conservation
If You Like Ultimate Africa, Then Try...