Watch Unfaithful: Stories of Betrayal
This real life TV drama follows different couples each week down the dark path of lies and deceit. This features real people facing real problems and opening up to the deep down fears of infidelity. We find out how a perfectly happy couple can slip and stray.
Intriguing reasons beyond belief to the secrets the cheaters had kept held close for so long are revealed. Temptations and the most intense secrets and fantasies that are hidden inside are revealed. Secret fantasies coming out show how some fall into infidelity.
How and why they felt compelled to fulfill a man or women's needs are discovered. Infidelity is truthfully, the hardest test to endure in a relationship and here you will see just that. Maybe it is that new job or your new little bundle of joy, but something has made your spouse feel that he or she is no longer getting the attention they deserve.
It could be something entirely different from attention, like wanting something new and different. This series gives couples the option of re-living those times of deceit. Strong men and women coming out of the shadows of complete and utter betrayal, reveal these secrets to their spouse or partner.
Some of these couples here will attempt on all sides to do what is right, while others will just forget and walk away. Families on both sides of the failing relationships are equally affected and get to speak their minds of the situation at hand. These families have their hearts shattered as the realization sets in on how serious this problem is.
These are revealing stories of normal people sharing their private, intimate secrets and reasons. An uplifting series that proves true love can endure all things. Openly true facts of a relationship on the brink of failing, but with the help of the therapist there could be a possibility to save their relationship and help them heal.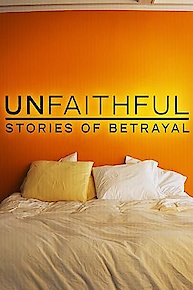 Unfaithful: Stories of Betrayal

Full Episode Guide
Season
2
33 clips available
Episode

11

-

Randy & Monica/ Derek & Ashley

A married man experiences sudden fame and he finds himself in the arms of one of his fans; a woman needs money for a divorce after her husband cheats on her.

Episode

10

-

Anna & Oscar / Nwasha & Montsho

Episode

9

-

Danyelle & Dujuan / Shawn & Albert

Episode

8

-

Tawaila & Kacey / Toni & Stewart

A woman takes a job as a stripper to financially support her family, but her husband disagrees and has an affair for revenge; a woman spends recklessly despite financial problems, driving her partner to look elsewhere for a soul mate.

Episode

7

-

Sharilyn & Danny / Cev & Shawn

Episode

6

-

Konnie & Tim / Cora & Dennis

Episode

5

-

Crystal & Luis / Angie & Don

Episode

4

-

Laura & David / Meosha & Che

Episode

3

-

Nikki & Xavier/ Kathy & Joel

Episode

2

-

Woodrina & Martez/ Kristin & Chad

Episode

1

-

Rosalyn & Cregg / Sherry & Scott
Episode

1

-

Series Premiere
If You Like Unfaithful: Stories of Betrayal, Then Try...
Most Popular Unfaithful: Stories of Betrayal Episodes