Watch Unleashed: K-9 Broward County
Unleashed: K-9 Broward County gives viewers a personable look at the K-9 unit as it follows Deputy Jerry Wengert and his loyal canine Bali, and partner Detective Geoff Brown. Plenty of action and fun as they chase down carjackers, drug dealers and cat burglars.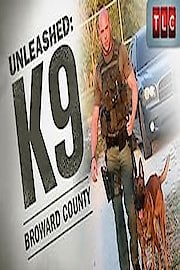 Unleashed: K-9 Broward County

Full Episode Guide
Episode 6 - Oozi's Episode: Fallen K-9

Jerry lost his last K-9 partner in the line of duty. After training with his current K-9 a call comes in to hunt down a burglary suspect.

Episode 5 - A Burglar on the Roof

Geoff, Jerry, and Bali are called upon to track down a burglar who has just fled into the night and vanished into thin air.

Episode 4 - Taking a Bite Out of Crime

A local professional athlete's house is broken into and the armed burglary suspect has been located in a nearby business. Geoff, Jerry and Bali respond to the scene.

Episode 3 - Sick as a Dog

Episode 2 - Guns & Dog Biscuits

Episode 1 - Police Dogs & Cat Burglars
If You Like Unleashed: K-9 Broward County, Then Try...