Watch Weathering Disaster
Series Length:
1 Season,

6

Episodes
Description:
"Weathering Disaster" introduces viewers to individuals, whose homes were destroyed by severe weather, following their efforts to rebuild in their communities working with volunteers and their insurance company. These are inspiring stories of how people can come together and do great work after disaster strikes.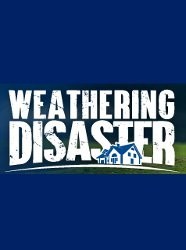 Weathering Disaster

Full Episode Guide
Episode 6 - Farmers Insurance Catastrophe Respons...

First Aired: October 22, 2011

Summary not available

Episode 5 - Hurricane Ike

First Aired: October 15, 2011

In 2008, Hurricane Ike hit the Texas coast. Doug and Inta Walker's magnificent home on the bay in Beach City was a total loss after the Category 2 Hurricane spawned one of many destructive tornadoes.

Episode 4 - Catastrophe Response in Joplin, Misso...

First Aired: October 08, 2011

The Farmers Insurance Mobile Claims Catastrophe Bus is a high tech emergency response vehicle that has been on location at hundreds of natural disasters. This is the story of the bus and the response team with the EF-5 tornado that ravaged Joplin, Missouri on May 22nd.

Episode 3 - Sherwood, Arkansas Tornado

First Aired: October 01, 2011

A dozen tornadoes touched down in Arkansas on April 3, 2008. One tornado skipped through the town of Sherwood right on top of Mason and Beth Collier's house. This is a story of fate and luck.

Episode 2 - Yorba Linda, California Wildfires

Episode 1 - Harrah, Oklahoma Tornado
If You Like Weathering Disaster, Then Try...