Watch Wolf's Rain
Wolf's Rain is an anime series created by Keiko Nobumoto. It is about a group of wolves in a post-apocalyptic world who seek to fulfill a prophecy about the end of the world bringing about paradise. The series was well-received both in Japan and in North America. Critics praised its unique setting and art, its background music and the realism of its main characters.
In a world where wolves are believed to have been hunted to extinction centuries ago, they have adapted to survive among humans. They can cast an illusion that makes humans perceive them as fellow people, when in fact they are existing as wolves. The main character, a white wolf named Kiba, finds his way to a place called Freeze City in order to fulfill a prophecy. The prophecy is that when the end of the world is near, only wolves will be able to find the entrance to paradise. Knowing that the prophecy has some sort of connection to something called the Lunar Flower, Kiba follows its scent.
His search leads him to find an artificial human named Cheza, who was once the Lunar Flower but had been transfigured into a human via alchemy. Along the way he meets a handful of other wolves, and they all take it upon themselves to protect Cheza as the key to opening paradise. Of course, things are made more complicated as the wolves are pursued by a number of antagonists. They are hunted by a man from a line of wolf hunters, and they are attacked frequently by an army led by the main antagonist, Count Darcia.
And when Darcia steals the flower girl from her lab, it is up to Kiba to keep his pack of lone wolves together in order to find her again and then keep her safe. Pursued relentlessly by the hunter and Darcia's army, it quickly becomes clear that the odds are stacked against them. But only the wolves can find paradise.
2 Seasons,

31

Episodes - Ended

April 24, 2004

10

/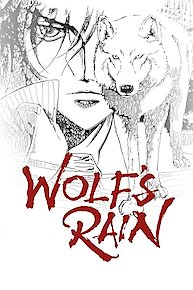 Wolf's Rain

Full Episode Guide
The wolves have finally reached the door to Paradise, but something is afoot.

Episode

29

-

High Tide, High Time

They continue their ascent of the mountain whose summit hold's the doors to Paradise.

Episode

28

-

Gunshot of Remorse

Quent awakens from his previous head trauma, and is surprised to see the wolves.

Episode

27

-

Where the Soul Goes

The world has begun an unstable rebirth cycle and Kiba and Cheza must reach Paradise before it's too late.

Episode

26

-

Moonlight Crucible

Two hundred years have passed since the day of destruction caused by Darcia the First.

Episode

25

-

False Memories

Tsume is attempting to get out of his cell as Hubb wakes up.

Episode

24

-

Scent of a Trap

Hige collapses in pain as two guards approach, but they just confirm that he is number 23 and leave him alone.

Episode

23

-

Heartbeat of the Black City

Cher and Blue make it to the Jaguara's city.

Episode

22

-

Pieces of a Shooting Star

Quent is in a transport with other refugees.

Episode

21

-

Battle's Red Glare

The pack runs towards a battle. They watch as Jaguara's men attack, then attack Jaguara's troops.

Kiba dreams of Cheza and his friends. He awakens and an owl appears.

Episode

19

-

A Dream of an Oasis

Kiba tries to rescue Cheza, but fails to make it aboard Darcia's ship.

Episode

18

-

Men, Wolves, and the Book of the Moon

The story thus far from from Hubb's point of view.

Episode

17

-

Scent of a Flower, Blood of a Wolf

The story thus far from Hige's point of view.

Episode

16

-

Dream Journey

The story thus far from Toboe's point of view.

The story thus far from Tsume's Point of View.

Episode

14

-

The Fallen Keep

There's a blizzard, and the wolves want to wait it out.

Episode

13

-

Men's Lament

Hubb barters for a car and enough gas to get to the next town.

Episode

12

-

Don't Make Me Blue

Darcia brings Cheza back to the castle and finds Neze, his servant, impaled on the door of Hamona's chamber.

Episode

11

-

Vanishing Point

Cher's soldiers search Cheza and the wolves.

The town is surrounded by soldiers and the pack needs to quickly find an escape route before it's too late.

Episode

8

-

Song of Sleep

The Investigation team continues to look for the Flower Maiden and the wolves.

Episode

7

-

The Flower Maiden

The pack uses a tunnel to leave the rotten city and head to the direction of Paradise.

Episode

6

-

The Successors

A cocky attitude and an impudent comment made by Kiba to the older wolves start a fight, and Kiba gets badly injured.

Episode

5

-

Fallen Wolves

As the pack moves forward in the search for Paradise, they find a road that leads to a city in the middle of the ocean, and they become excited, thinking they have found Paradise!

Episode

4

-

Scars in the Wasteland

The four wolves safely escape from the city and begin their journey to Paradise.

Cheza, the Flower Maiden, is taken away by a mysterious figure called Darcia, and with her; he vanishes into a bright light in front of Kiba and Hige.

Episode

2

-

Toboe, Who Doesn't Howl

A young wolf named Toboe struggles to find food in the city.

Episode

1

-

City of Howls

Kiba, a wolf who has great pride in his true form as a wolf, is on a journey to find Paradise.
If You Like Wolf's Rain, Then Try...
Most Popular Wolf's Rain Episodes
Season 0 Episode 0

11/30/-0001