Watch Your Worst Animal Nightmares
"Your Worst Animal Nightmares" promises to deliver just what it says - truly nightmarish real-life stories of near death and horrific human encounters with kayak-attacking sharks, cruel crocodiles, deadly spiders and more. The six-part series features the infamous animal attacks that have taken place over the past 50 years in Australia a place that, for some reason, seems to have an unusual amount of highly deadly creatures living there on both land and in the sea.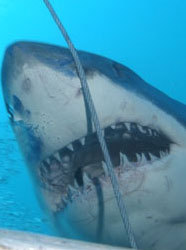 Your Worst Animal Nightmares

Full Episode Guide
Episode 10 - Fatal Crossing

Episode 8 - Horror Down Under

Tourists in Australia had no idea that they are swimming with crocodiles.

A great white shark pulls a fisherman into the ocean.

Episode 4 - Trial by Venom

Episode 1 - Pilot: Camp Terror
If You Like Your Worst Animal Nightmares, Then Try...