Watch All Is Lost
"Never give up."
"All is Lost" is an American film directed by J.C. Chandor and staring Robert Redford. It was released in 2013 at the Cannes Film Festival and received a standing ovation when it was done. It has received a 94% rating at the Rotten Tomatoes review site, meaning 94% of all reviewers gave it a positive review. Redford plays an unnamed man lost at sea in the Indian Ocean. There's very little explanation as to why he is lost or what he is doing on the boat. Dialogue is very minimal, although it includes a few monologues by Redford as he tries to explain his predicament to himself.
His boat is heavily damaged and he has to work hard to repair the hull. A storm hits while he is repairing his boat and, although he fights to stay on course, he is lost at sea. His boat is irrevocably damaged and his fate is left uncertain by the end of the movie.
The ambiguous ending, the heavy lack of dialogue, and heavily realistic special effects and events of the movie has garnered it a lot of praise. However, some viewers didn't enjoy the fact that Redford's fate is left to the imagination.
|
2013
|
1 hr 40 min
|

/

10
Cast

Studio

Director

J.C. Chandor

Language

English
More Like All Is Lost
SUBSCRIPTION
RENT / BUY
CABLE
All Is Lost News
Golden Globe Nominations: Yes to '12 Years a Slave,' No to 'The Butler'
December 12, 2013 @ 9:54 am PST
|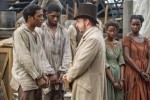 The Golden Globe Awards unveiled their nominations this week, and as always the ranks of nominees were filled with A-list stars. There was a big name or two missing from the list, however, and some observers were surprised that the traditionally celeb-friendly Golden Globes missed the chance to nominate the likes of Oprah Winfrey and Harrison Ford.
Read More


Watch All Is Lost Trailer

Watch All Is Lost Online - Watch online anytime anywhere: Stream, Download, Buy, Rent
All Is Lost is currently available to watch and stream, download, buy, rent on demand at Amazon Prime, Hulu, Amazon, Vudu, Google Play, FandangoNow, iTunes, YouTube VOD online.