Watch Bambi
"A great love story."
Follow a group of friends who are woodland animals. These animals talk to each other and visit other animals in the woods. As the story begins, a young prince deer is born. This prince will experience several adventures, such as walking in his first snow and seeing rain dropping on leaves. His explorations lead him along with a skunk and a rabbit.
These animals soon grow older, and they each encounter a female friend who they fall in love with. A new season begins with the rabbit and skunk having families of their own. The loving deer discovers the pain of losing his mother, but his father is there to train him to be the King of the forest. Through love and loss, the deer will rise to adulthood.
|
1942
|
1 hr 10 min
|

/

10
Cast

Studio

Director

David Hand, Graham Heid

Language

English
Bambi News
Hilarious 'SNL' Sketch Features The Rock as Live-Action Bambi
March 31, 2015 @ 4:03 pm PST
|
Read More

5 Fantastic Father-Son Movies to Watch This Father's Day
June 13, 2014 @ 2:17 pm PST
|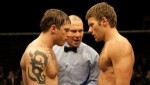 Whether you're looking for a movie to watch with dad or a movie about dads, there are plenty of options out there for you this Father's Day weekend. In particular, the father-son relationship is a staple of classic Hollywood films of all kinds, from small comedies to large-scale action flicks. So you don't have to search far and wide for a movie about a father and son, but which ones are the best ones to watch this weekend? Here's our list of Father's Day movies for all kinds of moods, whether you want to laugh or cry.
Read More


Watch Bambi Trailer

(Original 1942) Bambi Trailer
|
2:14
Watch Bambi Online - Watch online anytime anywhere: Stream, Buy, Rent
Bambi is currently available to watch and stream, buy, rent on demand at Amazon, Vudu, iTunes online.