Watch Battle Royale
"Could you kill your best friend?"
Battle Royale takes place in Japan, during the economic collapse. Since the unemployment ratings are severely concerning, crime is at an all time high. Once a year, a class is chosen to participate in a violent event called "Battle Royale". This annual event will gather all of the students from their class and have them fight each other on an abandoned island for survival.
During this violent event, even though these students are pitted against each other out of their will, the behavior of these students still remain the same. Some of their behaviors include high school crushes, ongoing grudges, and even their lifetime goals for the future.
|
2001
|
1 hr 54 min
|

/

10
Cast

Studio

Director

Kinji Fukasaku

Language

English
FREE
SUBSCRIPTION
RENT / BUY
Battle Royale News
'Hunger Games' Predecessor 'Battle Royale' May Be a CW Show
July 26, 2012 @ 5:57 pm PST
|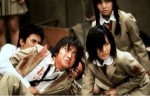 We could be getting close to a "Hunger Games" TV show, as The CW is showing interest in a TV adaptation of "Battle Royale," which holds many of the same themes.
Read More


Watch Battle Royale Trailer

Watch Battle Royale Online - Watch online anytime anywhere: Stream, Download, Buy, Rent
Battle Royale is currently available to watch and stream, download, buy, rent on demand at Amazon Prime, Netflix, Shudder, Amazon, Google Play, FandangoNow, YouTube VOD, iTunes online.