Watch Bram Stoker's Dracula
"Love never dies."
Loosely based off of the original film with the same title, this version of Bram Stoker's Dracula is much more terrifying. Dracula, played by Gary Oldman, decides to make a deal with evil forces after having his love jump to her death after the news of his alleged death in battle. He returns home only to find that the opposition has taken away his most prized possession, no matter the lengths of conquer he was able to reach.
Many years have passed, and a lawyer by the name of Johnathan Harker, played by Keanu Reeves, is assigned to visit the Count's homeland of Transylvania in order to finalize the paperwork for the Count's move to England. It is soon after that Harker finds that he is not a guest, but a captive against his will. Not only is his life being held at Dracula's decision, but his love Mina, played by Winona Ryder, is the object of the Count's affection. She holds a striking resemblance to his lost love, who he feels has returned to him in her form.
With Harker captive, Dracula makes his way to England in pursuit of his desires. While feeding off of other women, the town enlists the assistance of Van Helsing, played by Anthony Hopkins in hopes of defeating him. Once Harker is able to escape the clutches of the she vampires, he is able to join forces with the town in hopes of saving his love's life and their future marriage. Bram Stoker's Dracula is adored for its captivating special effects and portrayal of this legendary tale. Francis Ford Coppola's rendition of this horror classic lives up to its name without any question. There are many scenes that depict violence and those of a sexual nature, so parental advisory is strongly cautioned for the duration of the film's entirety.
|
1992
|
2 hr 7 min
|

/

10
Cast

Studio

Director

Francis Ford Coppola

Language

English
Bram Stoker's Dracula News
Watch the Trailer For Francis Ford Coppola's Spooky 'Twixt'
August 03, 2011 @ 5:54 am PST
|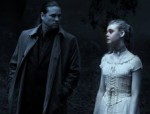 The last time Francis Ford Coppola made a big splash with a venture into horror, it was with his romanticized and visually gripping "Bram Stoker's Dracula" in 1992. Was that lightning in a bottle, or a trickle from an untapped well of material that Coppola has curiously not gone to since? Copolla has an independently produced horror tale called "Twixt" that will premiere at September's Toronto International Film Festival, and now we have the official trailer.
Read More

'Vampire Diaries' Star Nina Dobrev is Happy for 'Twilight' After MTV Movie Awards
June 06, 2011 @ 9:04 pm PST
|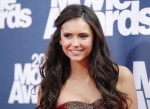 Before "Twilight," vampires were still the kind of creatures that we saw in shows like "Buffy the Vampire Slayer" or in movies like "Bram Stoker's Dracula." Now, they're the go-to monster for supernatural romance. "Twilight" has done it, "True Blood" has done it, and "Vampire Diaries" has done it (and thrown in witches to boot). Nina Dobrev, star of "The Vampire Diaries," knows that she owes a lot to "Twilight." That's why she gave them props after the MTV Movie Awards!
Read More


Watch Bram Stoker's Dracula Trailer

Bram Stoker's Dracula
|
2:33
Official Trailer [HD]
|
2:39
Watch Bram Stoker's Dracula Online - Watch online anytime anywhere: Stream, Buy, Rent
Bram Stoker's Dracula is currently available to watch and stream, buy, rent on demand at Amazon, Vudu, Google Play, FandangoNow, YouTube VOD, iTunes online.