Breakin' 2: Electric Boogaloo
"They're Back... For Everyone Who Believes In the Beat."
Like the first movie in the series, Breakin' 2 features a cast of then unknown young dancers and a contemporary soundtrack of rap and hip-hop. This time the teens are fighting to save their local community center from demolition. Kelly (Lucinda Dickey) returns from her rising success on Broadway to find Ozone (Adolfo Quinones) and Turbo (Michael Chambers) teaching the neighborhood kids how to use the acrobatic breakdancing moves in a more choreographed, group style. Together the three of them decide to put on a benefit show to raise money and buy the endangered urban center. But along the way they encounter obstacles in the form of evil corporate development, corrupt politicians, and even resistance from their own parents. All while also experiencing their own growing pains and romantic entanglements.
Filled with mid-eighties style and music, this sequel benefits from the presence of real young talent of the era, including up and comers like Ice-T.
|
1984
|
1 hr 34 min
|

/

10
Cast

Studio

Director

Sam Firstenberg

Language

English
More Like Breakin' 2: Electric Boogaloo
Breakin' 2: Electric Boogaloo News
Tonight's Fall Premieres: Tim Allen Returns to TV with 'Last Man Standing' [Tuesday, 10/11]
October 11, 2011 @ 8:00 am PST
|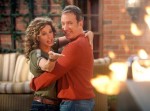 It's not entirely clear if he'll be actually doing the signature grunt, and there won't actually be a TV show called "Tool Time" involved, but make no mistake, Tim Allen's return to TV tonight on ABC with the show "Last Man Standing" is basically "Home Improvement 2: Electric Boogaloo."
Read More


Watch Breakin' 2: Electric Boogaloo Trailer

Breakin' 2: Electric Boogaloo Official Trailer #1 - Harry Caesar Movie (1984) HD
|
1:44