Double Jeopardy
Double Jeopardy is a 1955 film noir picture. The story involves a man being blackmailed by his former criminal partner that was recently released from prison. His daughter and her boyfriend, who is also his lawyer, are completely unaware of the situation as the blackmailer applies more pressure. When the blackmailer is killed by the boyfriend of his cheating wife the police investigation leads back to the man being blackmailed. He admits that he has been paying off his former partner but denies the murder. This leads his daughter and the lawyer boyfriend to begin an investigation of the crime themselves.
Cast

Rod Cameron

,

Gale Robbins

,

Allison Hayes

Language

English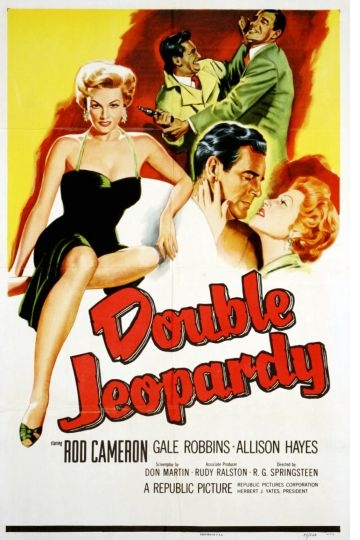 Also directed by R.G. Springsteen
Also starring Rod Cameron
Also starring Gale Robbins
Double Jeopardy News
Judge Dismisses Ashley Judd's Sexual Harassment Claim Against Harvey Weinstein
The actress was one of the first to speak up about the producer's behavior.