Frozen
High in the Himalayas in a remote village lives Karma, a middle aged man who makes and sells apricot jam. He lacks the equipment that his competitors have and struggles to keep up. His children, teenage Lasya and her younger brother Chomo are none the less happy. Laysa is an impulsive teenager living in a dream world. They are surrounded by snowcapped mountains and harsh barren land that stretches for miles. The outside world has not touched them.
While Karma and his family are at the market, he to sell his jam, and the children to enjoy the fair, the army moves in. They return to find the army less than a hundred yards from their door. Having set up base they threaten to requisition their entire plot of land, citing security concerns. Losing their last bit of comfort, their formerly familiar surroundings, life becomes a never ending conflict.
|
2007
|
1 hr 38 min
|

/

10
Cast

Studio

Director

Chi-kin Kwok
Frozen News
Kristen Bell Dresses Up as 'Frozen' Character for Halloween
October 30, 2017 @ 7:57 am PST
|
Read More

'Frozen 2' Coming in 2019
April 26, 2017 @ 11:54 am PST
|
Read More

Kristen Bell Sings Songs from 'Frozen' During Hurricane Irma
September 11, 2017 @ 11:50 am PST
|
Read More

Twitter Demands Gay Captain America
May 25, 2016 @ 4:05 pm PST
|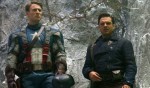 Captain America already has a girlfriend, but social media this week tried to convince Disney that the superhero needs a boyfriend instead.
Read More