Ishq
Ishq is a Bollywood drama comedy written by Praful Parikh and Rajiv Kaul. Directed by Indra Kumar, the film stars Aamir Khan, Juhi Chawla, Ajay Devgan and Kajol. Ranjit Rai (played by Sadashiv Amrapurkar) and Harbanslal (played by Dalip Tahil) are two well to do businessmen who make no secret that they despise the poor. The two decide that their children, Ajay (played by Ajay Devgan) and Madhu (played by Juhi Chawla) should marry rich spouses, trying to break up friendships with Raja (played by Aamir Khan)and Kajal (played by Kajol) because they are poor.
After Madhu puts Raja and Ajay into a car without brakes, Raja exacts revenge by arranging for Madhu to believe them dead. She believes their ghosts plan to kill her, which upsets Madhu, who slaps Raja. Raja wants to go home, but Madhu stops him. They kiss and fall in love.
Their fathers are upset to learn that Ajay is with Kajal and Madhu is with Raja. They try to separate them, bribing and attempting to murder Kajal and Raja. Ajay and Madhu are also cajoled into signing a marriage certificate.
The parents deceive them to believe they will accept the circumstances. At the engagement ceremony, pictures of Raja and Kajal are shown being intimate. Kajal's uncle falsifies testimony to fabricate an affair between Raja and Kajal, saying she had two abortions.
The couples break up, creating a rift. They are also led to believe that Kajal is pregnant by Raja. It snowballs into them believing that the two will marry. Kajal attempts suicide but Raja stops it.
Raja wants revenge, trying to rape Madhu. Ajay stops it and the police arrest Raja. Police brutally beat him and Kajal pleads for his release. They agree, but Kajal and Raja are to leave the country. Raja is set free, first refusing to leave, but Kajal gets him to go.
When Ajay and Madhu's wedding is to start, Ajay's uncle displays pictures exonerating Raja and Kajal. Raja and Kajal forgive everyone and the couples are reunited.
|
1997
|
2 hr 53 min
|

/

10
Cast

Aamir Khan

,

Ajay Devgn

,

Juhi Chawla

,

Kajol

Language

Hindi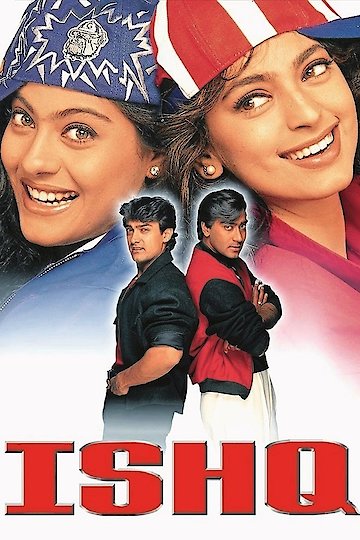 Watch Ishq Trailer

TRAILER FILM INDIA, ISHQ ( MABAK )
|
4:37