Watch Jay and Silent Bob Strike Back
"Hollywood had it coming"
This comedy is the fifth entry in writer and director Kevin Smith's View Askewniverse, following Clerks, Mallrats, Chasing Amy, and Dogma. The titular duo learns that there is a comic book, "Bluntman and Chronic," and subsequent movie based on their escapades, but they are receiving no royalties for the use of their likenesses. In order to reclaim what is rightfully theirs, Jay and Silent Bob set off for Hollywood on a quest to destroy production on the big budget film in retaliation.
The movie is notable for its self-referential style, with plenty of in-jokes designed to appeal to fans of the first four films. It's also chock full of celebrity cameos, including appearances by Will Ferrell, Matt Damon, Judd Nelson, George Carlin, Carrie Fisher, Jon Stewart, Chris Rock, Wes Craven, and many, many more. Despite mixed critical reviews, the film was a financial success, opening at #3 at the United States box office.
|
2001
|
1 hr 45 min
|

/

10
Cast

Studio

Director

Kevin Smith

Language

English
More Like Jay and Silent Bob Strike Back
Jay and Silent Bob Strike Back News
'Clerks' Director Kevin Smith Has 'Massive' Heart Attack
February 26, 2018 @ 5:30 am PST
|
Read More

Eliza Dushku to Star in Animated 'Torchwood' Webisodes
June 02, 2011 @ 4:00 pm PST
|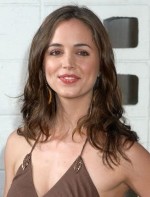 Eliza Dushku has two very important talents - never aging, and constantly attaching herself to nerdy properties. And while starring in a "motion comic" based on the popular geek series "Torchwood" may not seem like a great career move, it's exactly this kind of attitude that has kept Dushku kind of relevant for nearly her whole career.
Read More

AMC Continues Reality TV Programming Plans with Kevin Smith's New Jersey Show
June 07, 2011 @ 4:00 am PST
|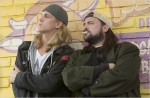 Now that AMC has more or less dominated the cable drama market (see the list of "Critics' Choice Television Awards" nominees for proof), it's time for the next step. No, not comedy. Reality TV! The network has a new show lined up, and Kevin Smith is involved. Yes, that Kevin Smith. The guy who wrote and directed films like "Clerks," "Mallrats" and "Jay and Silent Bob Strike Back" is executive producing a reality show.
Read More

Kevin Smith To Give 'Pawn Stars' Concept Appropriate Dose Of Geekery
June 01, 2011 @ 5:00 am PST
|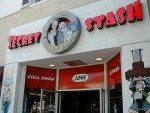 So it seems that after he finishes promoting his current underground sensation "Red State" and shooting the hockey movie "Hit Somebody" - which he claims will be his last big-screen directorial effort - Kevin Smith will start thinking a little smaller. Apparently Smith digs the "Pawn Stars" reality TV concept, but thinks it could speak better to his core crowd.
Read More


Watch Jay and Silent Bob Strike Back Trailer

Jay and Silent Bob Strike Back (2001) Official Trailer # 1 - Kevin Smith HD|2:51
Watch Jay and Silent Bob Strike Back Online - Watch online anytime anywhere: Stream, Download, Buy, Rent
Jay and Silent Bob Strike Back is currently available to watch and stream, download, buy, rent on demand at Hulu, Amazon, Vudu, Google Play, FandangoNow, iTunes, YouTube VOD online.