Watch Kick-Ass
"Shut up. Kick ass."
Kick-Ass is a high-flying, action-comedy centered around an average, nerdy comic book loving high schooler named Dave who decides to take a stand for what's right and defend those who can't defend themselves after witnessing countless acts of crime and victimization. Dave Lizewski (played by Aaron Johnson) is an avid comic book reader living and going to high school in New York. He and his friends talk about comic books and fantasize about super hero's while he quietly pines for his crush Katie. After witnessing one-too-many crimes in the city gone unpunished, Dave buys some scuba gear, and crudely puts it together to become Kick-Ass, a real, live vigilante and superhero. Things are fine at first as Dave sets up a Myspace page where he can be reached as Kick Ass to help those in need.
Things take a sour turn when Dave tries to stop a guy who has been harassing his crush. He ends up killing and witnessing the killings of several henchmen of one of the City's most revered crime bosses, Frank D'Amico, who's son Chris is poised to take over the family business but is less than capable as a frail, geeky comic book nerd. Kick Ass meets two other super hero's. A Batman-esque man named "Big Daddy" played by Nicholas Cage, and his sidekick daughter "Hit Girl", played by Chlose Moretz Grace, both whom have massive assassin skills.
Eventually the team is caught by Frank A'Amico and his crew after using his son Chris to lure the hero's into a trap. This is done when Chris dresses up and calls himself "Red Mist". Later on, Big Daddy and Kick Ass are tortured and beaten on a live internet stream which is fed to the news, which Dave's own friends and now girlfriend Katie all see. The beatings are stopped when Hit Girl, who was believed to be dead rushes the room and kills everyone except Kick Ass and Big Daddy, but it is too late, Big Daddy has died.
In the end, Hit Girl and Kick Ass team up and take out Frank D'Amico. But at the end of the film, Red Mist indicates from his father's chair that he will return, as a villain! The Sequel to Kick-Ass is due out next year.
|
2010
|
1 hr 57 min
|

/

10
Cast

Studio

Director

Matthew Vaughn

Language

English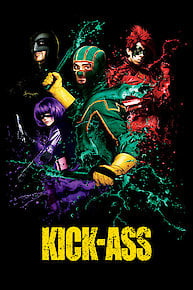 Kick-Ass News
Chloe Grace Moretz Dating David Beckham's Son, Brooklyn?
August 03, 2014 @ 11:19 am PST
|
Read More

[Video] New 'Carrie' Trailer Promises to Bring Down the House
April 07, 2013 @ 3:55 pm PST
|
Set to be released in October of this year, the latest adaptation of Stephen King's novel "Carrie" looks better than ever.
Read More

Weekend Box Office Aug. 16-18: 'The Butler' Wins, 'Jobs' Doesn't
August 19, 2013 @ 1:27 pm PST
|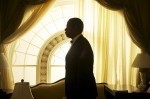 It was a quiet weekend for new movie releases, and the quietest of the new offerings came out on top of the box office. "Lee Daniels' The Butler" handily triumphed over "Kick-Ass 2," "Jobs," and "Paranoia."
Read More

The 'Kick-Ass 2' Trailer Hits... Hard
March 13, 2013 @ 12:40 pm PST
|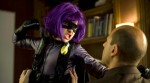 Featuring Jim Carrey this time around, "Kick-Ass" is heading back to theaters as our crime-fighting real worlders struggle to defeat the Red Mist... who is sporting himself a brand new evil name.
Read More


Watch Kick-Ass Trailer

Watch Kick-Ass Online - Watch online anytime anywhere: Stream, Buy, Rent
Kick-Ass is currently available to watch and stream, buy, rent on demand at Amazon, Vudu, Google Play, FandangoNow, YouTube VOD, iTunes online.