Last House on Dead End Street
"You bet your ass this is for real!"
Last House on Dead End Street once referred to as "The Cuckoo Clocks of Hell," is a 1977 American horror film directed by Roger Watkins. The movie is about a young gangster named Terry Hawkins, who was recently released from a one-year prison stay for drug related charges. Terry is angry and decides to get back at society. Before going to prison, he claimed to have made adult films that didn't sell. Terry believes he needs to create something more thrilling and decides on snuff films. He lures and captures people into an abandoned building, where he kills them in creative ways. He decapitates one victim, saws limbs off another, and does some work with a power drill to another. Creepy Terry is commended on his realistic work.
|
1977
|
1 hr 18 min
|

/

10
Cast

Roger Watkins

,

Ken Fisher

,

Bill Schlageter

,

Kathy Curtin

Director

Roger Watkins, Roger Michael Watkins

Language

English
More Like Last House on Dead End Street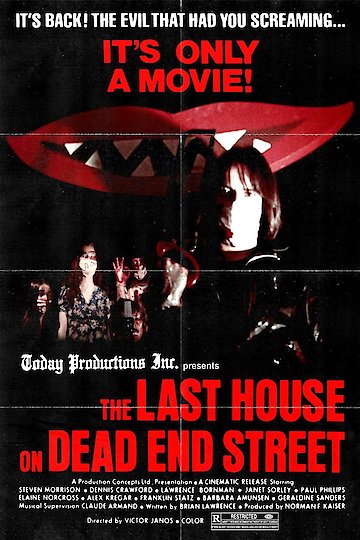 Watch Last House on Dead End Street Trailer