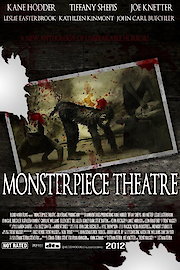 Watch Monsterpiece Theatre Volume 1
"Blood, Boobs and Monsters, what more do you want!"
Monsterpiece Theatre Volume 1 is the first installment in a trio of movies that combine comedy with horror. With the advent of a new technology, monsters are roaming the streets of Chicago. Genetically altered and electronically charged, the monsters know nothing but the desire to eat human flesh. Scared out of his mind and angry that the monsters ate his best friend (Larry), Simon Shinek is determined to seek revenge. A series of hilarious stunts lands Simon in the hands of the greatest monster of them all. Stuck in his lair, Simon attempts to defeat him with his own poison.