Out of Sight
"Opposites attract."
Out Of Sight is a movie starring George Clooney, Jennifer Lopez, and Ving Rhames. The movie is based on the novel by Elmore Leonard. The movie is about a career robber who enters into a interesting relationship with the US Marshall who is after him played by Jennifer Lopez. Out Of Sight is a cross between a drama, comedy, and action movie. George Clooney's character is very clever, surprisingly vulnerable, sincere, and charming.
Both George Clooney and Jennifer Lopez's characters are confused by the attraction that develops between them. They are not so much running into each other as Jennifer Lopez keeps trying to catch him. In one of the movie's scenes, Lopez's character is sitting in a hotel lobby, and the elevator opens and George Clooney's character is standing there, and they just stare at each other.
|
1998
|
2 hr 3 min
|

/

10
Cast

Studio

Director

Steven Soderbergh

Language

English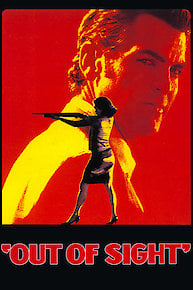 Watch Out of Sight Trailer