Watch Paranoia
"In a war between kings even a pawn can change the game."
Paranoia is a dramatic thriller that was released in the summer of 2013. It was directed by Robert Luketic, and it stars Liam Hemsworth, Harrison Ford, Gary Oldman, and Amber Heard. The story follows, Adam, portrayed by Liam Hemsworth. He is an inventor who has not found much success. He currently works for a big company that is owned by Mr. Wyatt, played by Gary Oldman. After disobeying his boss, Adam is fired. After this, Adam decides to take his company credit card and use it to party all night at nightclubs.
Soon after, Adam is approached by representatives of his former employer. Instead of turning him into the police for fraud, they make Adam act as a spy while working for one of Mr. Wyatt's competitors. The new company Adam must infiltrate is run by Mr. Goddard, who is played by Harrison Ford. Furthermore, Mr. Goddard used to be Mr. Wyatt's mentor, and Adam is used to help steal files that Mr. Wyatt claims were stolen from him in the past. Along the way, Adam meets Emma, who is played by Amber Heard. She also works for Mr. Goddard, and Adam tries to seduce her to help him complete his mission.
|
2013
|
1 hr 55 min
|

/

10
Cast

Studio

Director

Robert Luketic

Language

English
Paranoia News
Weekend Box Office Aug. 16-18: 'The Butler' Wins, 'Jobs' Doesn't
August 19, 2013 @ 1:27 pm PST
|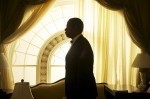 It was a quiet weekend for new movie releases, and the quietest of the new offerings came out on top of the box office. "Lee Daniels' The Butler" handily triumphed over "Kick-Ass 2," "Jobs," and "Paranoia."
Read More

New Movie Releases Aug. 16-18: 'Paranoia,' 'Jobs,' Another 'Kick-Ass' and a White House 'Butler'
August 16, 2013 @ 2:54 pm PST
|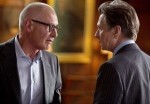 There won't be any new $100-million movies this weekend, but there probably won't be any huge box office disasters, either. This week's new releases have small budgets and low expectations.
Read More


Watch Paranoia Trailer

Paranoia Official Trailer #1 (2013) - Liam Hemsworth, Amber Heard Movie HD
|
2:32
Watch Paranoia Online - Watch online anytime anywhere: Stream, Buy, Rent
Paranoia is currently available to watch and stream, buy, rent on demand at Amazon, Vudu, Google Play, iTunes, YouTube VOD online.