Watch Stay
"Between the worlds of the living and the dead there is a place you're not supposed to stay."
Stay is a mystery thriller that was released in 2005. The film involves a psychiatrist who is worried that he may be losing his mind and is considering stopping his work for fear of malpractice. However, the psychiatrist must remain in practice in order to stop one of his newest patients from ending his own life. The psychiatrist must do all of these things while suffering from extreme delusions, without knowing what the patient is up to, and without being able to even know if the patient is real. The story is told through a number of scenes that mirror the uncertainty of the characters involved in the film.
Stay was written by David Benioff, and it was directed by Marc Forster. The psychiatrist by the name of Dr. Sam Foster is played by Ewan McGregor. The troubled patient is played by Ryan Gosling, and is named Henry Letham. The film also features performances by Naomi Watts and Kate Burton.
|
2005
|
1 hr 39 min
|

/

10
Cast

Studio

Director

Marc Forster

Language

English
Stay News
'Machine Gun Preacher': Watch the Trailer for the New Gerard Butler Movie
August 19, 2011 @ 6:00 am PST
|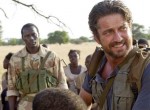 After trudging about in romantic comedies for the past few years, Gerard Butler seems ready to take action. And this time, it's in the name of the children in a movie based on the story of a drug dealer-turned-freedom fighter.
Read More


Watch Stay Trailer

Watch Stay Online - Watch online anytime anywhere: Stream, Download, Buy, Rent
Stay is currently available to watch and stream, download, buy, rent on demand at Amazon Prime, Amazon, Vudu, Google Play, FandangoNow, iTunes, YouTube VOD online.