Watch That Thing You Do!
"In every life there comes a time when that dream you dream becomes that thing you do."
Tom Hank' directorial debut, That Thing You Do! is a period musical comedy set in the summer of 1964. The Wonders are a small time Pennsylvania quartet who score a big time hit with their song "That Thing You Do!". Drummer Guy Patterson (Thomas Everett Scott) joins the band after the original drummer breaks his arm, and with his suggestions and the help of his uncle (Chris Isaak) the band comes to the attention of a manager at Play-Tone Records.
Almost overnight they are propelled to the top of the charts, and with the help of their savvy manager (Tom Hanks) they ride the fame wave for all it is worth. Soon they are headlining concerts, making movies, and playing on talk shows.
However the price of fame soon catches up with them as tensions within the band threaten to tear it apart, and their friendships and relationships suffer the effects of their new status.
The movie features a original soundtrack of period style songs, some of which were partially composed by Hanks himself. The strong ensemble cast features the likes of Steve Zahn, Liv Tyler, Charlize Theron, and Giovanni Ribisi.
|
1996
|
1 hr 48 min
|

/

10
Cast

Studio

Director

Tom Hanks

Language

English
More Like That Thing You Do!
That Thing You Do! News
Green Day's 'American Idiot' Now a Movie, Produced by Tom Hanks
April 13, 2011 @ 7:27 am PST
|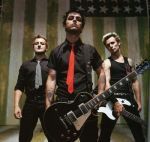 Long-lived rock band Green Day has already conquered two different media: the song and the stage. Pretty soon, you'll be able to add the movies to the list as well.
"American Idiot," the Broadway musical based on Green Day's concept album of the same name, has been optioned as a movie and bought by Universal.
The new project will be produced by Tom Hanks and Gary Goetzman who, in a rather smart move, optioned the rights before "American Idiot" even started on Broadway.
Read More


Watch That Thing You Do! Trailer

That Thing You Do! trailer 1 (1996)
|
2:30
Watch That Thing You Do! Online - Watch online anytime anywhere: Stream, Buy, Rent
That Thing You Do! is currently available to watch and stream, buy, rent on demand at Vudu, Google Play, FandangoNow, iTunes, YouTube VOD online.