Watch Wall Street
"Every dream has a price."
Wall Street is a business drama film that came out in the year 1987. It is a film about a young stockbroker who seeks guidance from a renowned financier to become a major player in the financial securities industry. Over time he realizes that this financier is quite unethical and therefore engineers a scheme to get back at him for potentially ruining the livelihoods of his father and other people he knows. This was one of the better films of that year.
In 1985 a young stockbroker named Bud Fox works at a firm and is fairly successful. However he is just barely making it and therefore is looking for a way to increase his earning potential. During this time he has been trying to get a hold of Gordon Gekko who is known to be one of the very most successful financiers on Wall Street. One day Fox finds out that it is Gekko's birthday and therefore comes into his office with a gift. He is finally granted the opportunity to meet him in person and gives him a box of cigars. During the meeting Fox looks to impress Gekko with some stock information but Gekko knows that they are not good investments to make. However in a last ditch effort attempt Fox tells Gekko about Bluestar Airlines which is the employer of his father. Gekko considers his information and later on that day he asks Fox to order several shares of stock of Bluestar Airlines. Due to this stock offer, he gains Gekko's approval and looks to give Gekko more stock offers. However the stocks lose money and Gekko looks to sever ties with Fox as a result. Fox is desperate to regain approval from Gekko agrees to give him another chance. Fox agrees to get inside information on numerous companies and becomes very successful. However Gekko plans to buy up Bluestar Airlines, sell it off and therefore lay off all of the workers. This would make both him and Fox very rich but ruin the lives of all of the employees. Fox then looks to manipulate the stock value so that Gekko loses money on the deal. Due to this maneuver, Fox gets arrested for securities fraud and gets information on Gekko to shorten his sentence. In the end he is taken to court by his parents for his arraignment.
|
1987
|
2 hr 6 min
|

/

10
Cast

Studio

Director

Oliver Stone

Language

English
Wall Street News
Michael Douglas, Matt Damon Begin HBO's Liberace Biopic
July 31, 2012 @ 10:46 am PST
|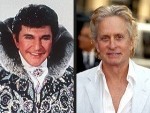 What our favorite stars endure for their art. It's enough to see the transformation of Michael Douglas and Matt Damon to play, respectively, Liberace and his lover in HBO's "Behind the Candelabra." But guess what the script demands the two Oscar winners do more than once. Damon himself was still a bit dumbstruck.
Read More

Charlie Sheen Wanted For Part In 'Scary Movie 5'
September 29, 2011 @ 6:00 am PST
|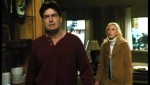 Charlie Sheen has reportedly been targeted by Dimension for a new role in the developing "Scary Movie 5," according to Entertainment Weekly. If he does, it would mark his third bow on the franchise's behalf, with the star having made cameos in "Scary Movie 3" and "Scary Movie 4" as Tom Logan.
Read More

Charlie Sheen Done With TV After 'Anger Management'?
March 29, 2012 @ 6:22 pm PST
|
He's hardly a TV veteran, better known for big-screen hits like "Platoon", "Wall Street" and "Major League" - but Charlie Sheen claims his latest endeavor could mark his short small-screen run's end. In a perfect world, Sheen told Access Hollywood, his forthcoming FX comedy "Anger Management" would ultimately be a hit "swan song" that caps his television endeavors after it premieres Jan.
Read More

Michael Douglas Gives First post-Cancer Interview
January 11, 2011 @ 8:45 am PST
|
Michael Douglas looked like a happy and healthy man this morning on the NBC Today Show.
This was his first TV interview since he was diagnosed and treated for throat cancer. And thankfully, what he had to say was nothing but good news!
Mike sat down with Matt Lauer and discussed everything from his family life to his cancer fight.
Michael told Matt that he thinks he has this cancer beat and is looking for a great future.
Read More


Watch Wall Street Trailer

Wall Street: Money Never Sleeps
|
1:32
Critics' Picks: 'Wall Street' | The New York Times
|
3:48
Watch Wall Street Online - Watch online anytime anywhere: Stream, Buy, Rent
Wall Street is currently available to watch and stream, buy, rent on demand at Amazon, Vudu, Google Play, YouTube VOD, iTunes online.