Watch White Christmas
"Joyous entertainment for every season, any year!!!!"
In this holiday-themed musical comedy, a pair of singing duos, one male and one female, fall in love. The quartet's romance heats up even further when they travel together to Vermont in an attempt to save a Vermont inn, which is owned by one of the guys' old Army friends, from financial catastrophe. Bing Crosby and Danny Kaye portray the singing gentlemen, and Rosemary Clooney and Vera-Ellen play their entertaining love interests. Although the film includes a version of Irving Berlin's title song, "White Christmas" actually made its debut in 1942's Holiday Inn.
|
1954
|
2 hr
|

/

10
Cast

Studio

Director

Michael Curtiz

Language

English
White Christmas News
Five Christmas Movies to Bring You Good Cheer
December 03, 2015 @ 9:01 am PST
|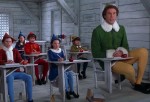 During the Christmas season, it's acceptable for a movie to be a little bit sappy. These five holiday classics are the best of a very sweet bunch.
Read More

7 Excellent Christmas Movies to Watch on Netflix This Month
December 03, 2014 @ 3:40 pm PST
|
Read More


Watch White Christmas Online - Watch online anytime anywhere: Stream, Download, Buy, Rent
White Christmas is currently available to watch and stream, download, buy, rent on demand at Netflix, Amazon, Vudu, Google Play, FandangoNow, iTunes, YouTube VOD online.