'Alcatraz' Stumbles, Falls Into Grave With Series-Low Finale
by Sean Comer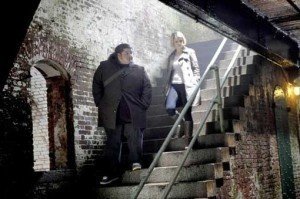 Well, "Alcatraz" ended its first - and in all likelihood, only - season as it lived: fairly pathetically.
The one-hour drama about seemingly deceased prisoners of the famed San Francisco penitentiary that once more walk the Earth pulled in 4.7 million viewers and earned an anemic 1.5 rating among adults age 18-49....a 6-percent slip to a series-low number. The two-hour finale helped put FOX into fourth place Monday night, averting the seppuku-worthy failure of getting beaten out by The CW.
To put it into even better perspective, the series was outdrawn by reruns of CBS' hit-machine of a comedy lineup. This doesn't bode well for "Alcatraz" darkening FOX's doorways next season. Then again, nobody's canceled "Whitney" yet, either.
Elsewhere, the night's biggest winners won't shock anybody. "Dancing with the Stars" earned 17.1 million viewers and a 3.1 mark, with "The Voice" getting 11.8 million but a more stellar 4.4 rating. "DWTS" fell off 11 percent over the previous week, while "The Voice" dipped 4 percent.
"Smash" somewhat rewarded NBC's recent renewal by remaining steady with 6.4 million viewers and a 2.2 rating in the 10 PM ET/PT slot. Over on ABC, "Castle" topped it with 12.1 million viewers following its usual "DWTS" lead-in for a 2.4 rating.