Alyson Hannigan, Husband Welcome Second Baby Girl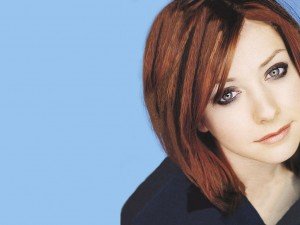 Congratulations to "How I Met Your Mother" star and "Buffy The Vampire Slayer" alum Alyson Hannigan - she's now a mother herself twice over.
The ginger cutie's rep confirmed to E! Online this afternoon that she and husband Alexis Denisof ushered three-year-old Satyana's baby sister into the world today, and that both mother and daughter are doing fine.
Also, it further's the tradition of Hannigan being a mother of substance. In Sanskrit, "Satyana" means "truth" or "true." So to keep up the tradition of her children's names actually meaning something, the couple named their latest addition Keeva Jane Denisof.
"Keeva" is a variation on the Gaelic word caoimhe, meaning "gentleness and beauty." Here's hoping it's a harbinger of growing up the spitting image of her pretty, quirky and kind mom.
"[Being a mom] has changed me in every way because my life is so much greater," Hannigan told Us Weekly way back in 2010. "It filled a void I never knew was there - it's the most amazing experience of my life. I just feel so blessed to be on this journey, to be a mommy."
It seems that, porbably to "How I Met Your Mother" fans, Hannigan's pregnancies have become somewhat pivotal events. When she was building up to welcoming she and Denisof's first child, she was written temporarily off of "Mother" in an arc wherein Barney offends her with a particularly raunchy joke and she abstains from the gang in disgust. This time around, it was written into this past season as she and Marshal awaited their first child...which, of course, Barney got a hand in naming.
Share This Story:
Talk About This: