'American Idol' Season 11, Episode 35 Recap - Top 4 Performance Night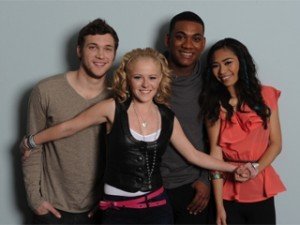 Another dramatic intro, but very little time dedicated to Skylar Laine's departure. Have we just passed over Skylar already? That's kind of a metaphor for her run... she was good every week, but never really interesting enough to warrant a spot in the final. Ah well.
Phillip will be up first tonight, doing CCR's "Have You Ever Seen the Rain." I can tell before he starts exactly how it's going to sound... that's either a testament to Phillip's consistency, or a sign that he's getting way too predictable. Then again, he's been playing it pretty safe for weeks, with no sign of waning fan support, so why change it? It's another fairly boring performance, but he certainly doesn't mess anything up.
The judges love it! Steven says something about the road to success being paved with the corpses of dead children or something. Oh, wait, that it's always changing. Jennifer compares Phillip to Joe Cocker, which is a little sacrilegious.
Hollie time, and she'll be doing Journey's "Faithfully." We get a little flashback to her season 10 audition, which was a sweet moment. I don't remember her audition this year, but I assume it wasn't quite as dramatic. Once again, Hollie is technically pretty sound, but it's a little empty. I don't know why this was her song choice this week, as the song doesn't have too much of a build. She spends too much time in the lower part of her range, which is bad considering how strong she is on the big notes.
The judges love it! JLo gets a little teary-eyed. Randy says she's "peaking at the right moment." I don't know if it was that great, but Hollie has certainly improved.
Joshua is up next, doing "You Raise Me Up," which is really making the vocal competition show rounds, after Chris Mann of "The Voice" just did it recently. Of course, this is right in Joshua's wheelhouse, and inspirational, soulful ballad. I'm missing a bit of the grit that he usually brings to his songs at first, but he brings it in about as much as this song allows toward the end. It's a solid performance. Oh, and he was literally being raised up on a platform. Ha.
The judges love it! Jennifer gushes over him again, and loves the drama, which she pronounces "draah-muh," which Randy comments on. Steven says Joshua "sang his tush off." Bout right.
That means Jessica is up next in the "California Dreamin'" theme. She takes on Etta James' "Steal Away." Bold move, taking on Etta James, who is pretty much incomparable. But Jessica is, as we know, a very strong singer, and does a nice job with it. There's a lot of grit, she gets those high flips in there, and while it's certainly a lot flashier than Etta, it's a good rendition.
The judges love it! Jennifer compliments the growl. Steven drops in the fact that he's singing an Etta James song himself. Randy praises her for being able to handle the blues at 16.
Phillip and Joshua come up for another duet, and will hopefully not be all "ew gay, ew" this week like they were last week with their "You've Lost That Lovin' Feeling" duet. This week they're doing "This Love" by Maroon 5. It's really incredibly mediocre. There are black and white dueling pianos. RACISTS!
That means Hollie and Jessica will be doing a duet as well. Theirs is "Eternal Flame" by The Bangles. Yes, The Bangles had another song other than "Walk Like an Egyptian!" I'm surprised too! The girls are on fabric swings. Because apparently they needed to look more like they're in middle school.
Cut to Adam Shankman showing the final four some footage from "Rock of Ages," and being far too gay for Phillip's taste. He coerces Phillip into kissing a poster of JLo. Last year's contestants got to see footage from "Super 8," so bummer that these kids got stuck with this one.
After that, all four of the kids sing together on "Waiting for a Girl Like You." Yawn.
Round two! The theme for this one will be "The Song I Wish I Wrote." Phillip starts things off with "Volcano" by Damien Rice, which is indeed a great song. Nice choice, Phil. Jimmy agrees, thinking that Phillip finally sounds like his own artist on this song. Is that just because Jimmy doesn't know this song? It is nicely suited to Phillip. For some reason he's singing into a pop filter. Guess those "to you's" were coming in too hot on the chorus. This is how bored I am. I'm theorizing about pop filters.
The judges love it! Steven agrees with Jimmy, thinking that he finally "heard the artist" too. It was a pretty faithful cover, so I don't get what they're crowing about. It was a nice performance, though. I think basically they could just finally hear some clear, unmuddied lyrics.
Hollie wishes she wrote "I Can't Make You Love Me" by Bonnie Raitt. Didn't somebody just do this one recently? Or am I confusing my shows? Well anyway, Jimmy emphasizes that she has to be vulnerable, and can't over-sing. Just a couple of measures in, and she's already over-singing, though. She at least holds back on the first chorus a bit, though. By the bridge, she's belting out like she usually does.
The judges don't love it! Steven thinks she hasn't had enough experience in her life to be emotionally honest in the song. JLo agrees. Randy had more of an issue with the song, noting that it didn't have any "moments" for Hollie. That's likely to be the most brutal round of comments for the night, and likely to be the nail in Hollie's coffin. Then again, I've been saying that for weeks.
Joshua is singing "It's a Man's Man's Man's Man's World" by James Brown, in honor of his mother. Jimmy has nothing but good things to say about it, and it certainly seems like a recipe for success. Armed with an entourage of swaying female musicians, Joshua comes out and slow-plays the song, starting gently (by his standards) and eventually building to his usual gritty wail by the end. He finds some interesting emotional moments throughout, expressing some anger, frustration and regret through the song. He also kills the high notes. Very solid performance.
The judges love it! Standing ovation for Joshua, and Randy yells "yo" at least 10 times before the crowd settles. Steven thinks it was the most passionate performance on this show ever. Jennifer continues to be surprised by what Joshua can do, and compliments his "corazon."
Jessica finishes up the night, singing "And I'm Telling You" by Jennifer Holiday, and from "Dreamgirls." Excellent choice for her. If you want to talk about "moments," talk about this song. This song won Jennifer Hudson an Oscar. Jimmy thinks it was absolutely fantastic in rehearsal, so we'll see if it is on stage as well. My question is whether or not Jessica can bring enough maturity, emotion and personal history to the song to really pull it off.
As it turns out, not quite. It's a fantastic vocal performance, but you can tell that she's showing the emotion as opposed to really feeling it. Clearly it's a song she has been singing for years, and it's technically very put-together and powerful, but it lacks the oomph that Jennifer Holiday and Jennifer Hudson put behind it.
The judges love it! Another standing ovation, and Steven calls it "over the top." He compliments the feeling, so apparently he really saw it there. Jennifer is at a loss for words. Now Jessica is in tears. Hey, maybe she really was going there. Well, good. She deserves to be in the final, along with Joshua. Let's hope these performances get them there.
So. Hollie seems like the obvious choice to go home here, and with performances like those from Joshua and Jessica, along with the only negative comments of the night, it almost has to be her. Phillip is clearly untouchable, and if Josh or Jess goes home after those performances, then... well, people are crazy.
Share This Story:
Talk About This: