Awkward: Reese Witherspoon Disses Kim Kardashian, Blake Lively Over Nude Photos & Sex Tapes
by Andy Neuenschwander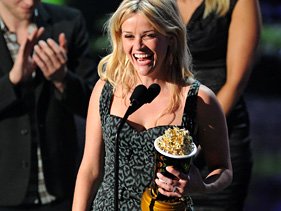 When Reese Witherspoon accepted her Generation Award at the MTV Movie Awards the other night, her speech was mostly about being grateful for her career, family, and friends (and calling Robert Pattinson a motherf***er). But she also went on a slight tangent about being a woman in Hollywood, and things got a little awkward.
"I just want to say to the girls out there: I know it's cool to be bad. Like, I get it. But it's also possible to make it in Hollywood without a reality show," said Witherspoon. Of course, she didn't mention any names there, but she went on: "When I came up in this business, if you make a sex tape you were embarassed and you hid it under your bed."
Seems to me a pretty clear reference to the likes of Kim Kardashian and Paris Hilton, who both released sex tapes and spent (or are currently spending) time on reality shows.
Witherspoon continued, "And if you took naked pictures of yourself on your cell phone, you hide your face, people! Like, hide your face!"
That could have been aimed at a number of girls in Hollywood, but the one most recent in memory is Blake Lively, who has a purported set of nude pics circulating the Web that she denies is her. Now, we're apt to believe Blake, but the fact is that the story is in the news, and Blake was on stage just minutes before Reese went up there and said that...awkward!
Check out Witherspoon's acceptance speech, and tell us what you think: was she targeting Blake Lively?