Behind The Scenes: Rihanna Wearing Nothing But Scales And A Serious Expression
by Sean Comer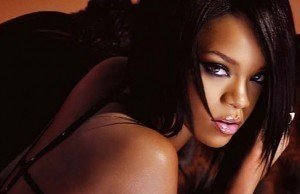 So....just what are we looking at, here?
Scratch that, it's pretty obvious.
Not to seem like we're looking a gift horse in the mouth, but....why is the "Battleship" star rocking the lizard look on her lady lumps?
Rihanna herself released the sexy scale-laden snap via her Facebook page, as a behind-the-scenes peek at her music video "Where Have You Been" and as ever, the goods on the 24-year-old Barbados babe don't disappoint.
Nor does the video or its thumping pulse.
Ri-Ri and a bunch of shirtless men get sweaty and traipse from swamp to desert as she sings about looking for a man - at the very least, not "Mr. Right" but "Mr. Right Now." With lots of costume and set changes, all featuring Rihanna's scintilating moves, it's a club jam for people who love Rihanna club jams.
Plus, you know....Rihanna doing her "Mystique" thing.
If that's not quite enough of her for you, her big-screen starring debut in "Battleship" hits theaters this Friday, May 18.