Bunny Business: Lifetime Special on Hef's Wedding Becomes Lifetime Special on a Runaway Bride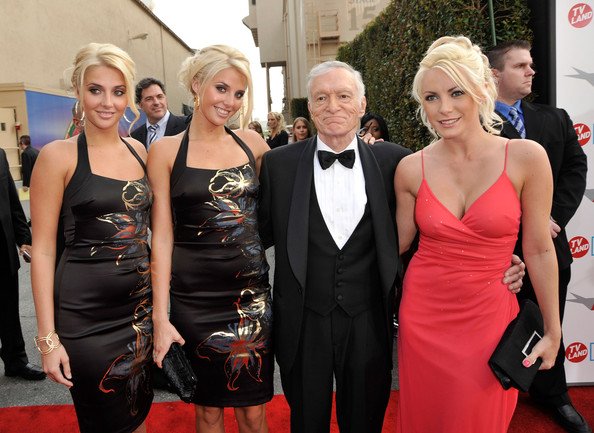 There's something to be said for turning lemons into lemonade, particularly if the lemons are growing in the Playboy Mansion.
After news broke about the breakup of Hefner and then-fiance Crystal Harris mere days before wedding was slated to occur, Lifetime originally announced that it was going to cancel the show. Sensing that perhaps people might still be interested in what it would be like have a swarm of long-legged, big-breasted Playmates wipe away your tears and get you back on your feet, Lifetime apparently reversed course and decided the show must go on.
"The marriage special planned for Lifetime TV is now going to have a 'runaway bride, theme & will air in July," Hugh Hefner tweeted. "I'll let everyone know the date of the Lifetime special as soon as it's established."
As we reported after the breakup, Holly Madison, Hef's girlfriend of many years and the star of "The Girls Next Door" was reportedly pissed about the marriage anyway, and stopped by after the runaway bride debacle to show her emotional support for Hefner.
At the time, Madison tweeted: "Nice day filming w/my old skool fam (sic)."
Of course, never one to be a one lady man (even when he's heartbroken), Hef told his Twitter followers that Playmate Anna Sophia Berglund (Crystal's supposed best friend) had helped him get over his disappointment as well.
"Anna is Crystal's best friend & mine as well. She's the one who helped me survive this past week. She's the best (sic)."
Harris referenced the Lifetime special in her comments to Ryan Seacrest at the time of the breakup:
"It all happened so fast, and they were going to air a [reality show special on Lifetime] on it. It was all happening too fast for me, and I just sat back and thought about it all and if this was what I wanted. It wasn't."
Of course, Harris seems to be getting along just fine since the breakup. She was seen partying with Heidi Montag on what was supposed to be her wedding day, just as her new song "Club Queen" appeared on iTunes. Hef let her keep her $90,000 three karat diamond and the Bentley he bought her, and rumors continue to circulate about her relationship with Dr. Phil's son.
No confirmation yet from Lifetime on Hef's remarks, though given the sheer volume of press the breakup (and Hef's clever sticker maneuver) has comanded, we're thinking they'd be a little daft not to move forward with the special.
Share This Story:
Talk About This: